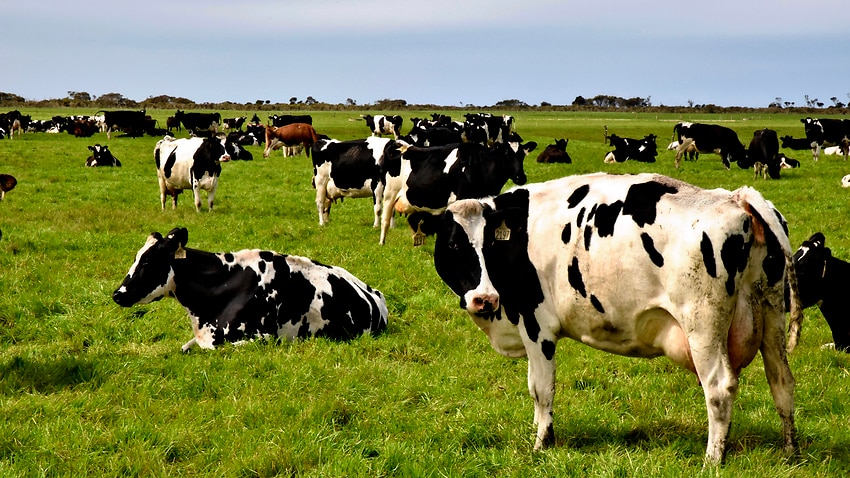 Mr Joyce said the methane pledge would "spell disaster" for the agriculture sector and place a "huge impose" on regional Australia, particularly the beef industry. 
"The only way you can get your 30 per cent by 2030 reduction in methanes on 2020 levels, would be to go grab a rifle, go out and start shooting your cattle," he said.
"It's just not possible." 
The full details of the deal struck between the Liberals and Nationals around the net zero by the 2050 target remain undisclosed, with the Coalition claiming cabinet confidentiality.  
But Mr Joyce on Thursday revealed as part of the agreement there would be no methane reduction targets as part of Australia's plan to reach carbon neutrality.
"Methane emissions as part of his process will not be will not be legislated or pushed forward and in any way shape or form," he said. 
He also confirmed the deal had included a regional fund to support regional Australia, as well as citing regular reviews of the transition's impact on the regions to be run by the Productivity Commission.  
At least two dozen countries have signed up to the pledge to cut methane emissions, including Britain, Canada, France, Germany and New Zealand. 
Australia's refusal to back the pledge comes as the federal government also said it would reject a US-led push to phase out all coal-fired power generation by 2030. 
Prime Minister Scott Morrison will leave for Rome on Thursday for the G20 summit before travelling to Glasgow on Sunday ahead of COP26. Mr Joyce will become acting prime minister once Mr Morrison departs. 
Labor's climate change spokesperson Chris Bowen said they would not call on the government to sign the methane emissions pledge. 
"We are not calling on the government to sign that pledge," he told reporters. 
"What we are calling on the government to do is to work with farmers and work with agriculture to reduce methane emissions." 
But Labor leader Anthony Albanese has continued to criticise the government's net zero approach ahead of the international climate talks.
"What we've seen [from the government] is net zero policies, net zero costings and modellign and net zero genuine commitment," he told reporters.
The opposition has said it will release its own 2030 emissions reduction and climate plan following the Glasgow summit. 
Source link