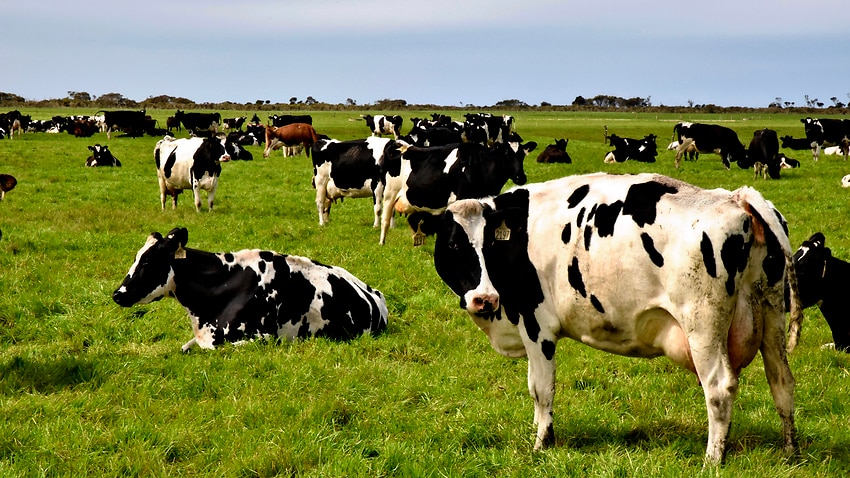 Mr Joyce has also stridently defended Australia's refusal to back a US and European Union pledge to cut methane emissions by 30 per cent by the end of the decade at next week's COP26 climate summit in Glasgow.
Mr Joyce said the methane pledge would "spell disaster" for the agriculture sector and place a "huge impose" on regional Australia, particularly the beef industry.
"The only way you can get your 30 per cent by 2030 reduction in methane on 2020 levels, would be to go grab a rifle, go out and start shooting your cattle," he said.
"It's just not possible."
The full details of the deal struck between the Liberals and Nationals around the net zero by the 2050 target remain undisclosed, with the Coalition claiming cabinet confidentiality. 
Mr Joyce on Thursday said as part of the agreement, there would be no methane reduction targets mandated within Australia's plan to reach carbon neutrality.
"Methane emissions as part of this process will not be will not be legislated or pushed forward and in any way shape or form," he said.
Mr Morrison later told reporters in Canberra no deal had been made to exclude agriculture from the 2050 target, but said "clear assurances" had been offered so this sector would not be negatively impacted.
"We've said very clearly that under our plan we won't be putting any mandates on farmers," he said.
"We won't be targeting them in any way as part of our emissions reduction plan."
Prime Minister Scott Morrison speaks to the media during press conference at Parliament House in Canberra. Source: AAP
---
Mr Morrison said the agriculture sector was "better off being part of the plan". 
"They will continue to play a positive role and a role that benefits them," he said.
Mr Morrison will leave for Rome on Thursday for the G20 summit before travelling to Glasgow on Sunday ahead of COP26. Mr Joyce will become acting prime minister once Mr Morrison departs.
Mr Joyce earlier also confirmed the deal had included a fund to support regional Australia.
Mr Morrison would not provide further detail about the fund when questioned, instead saying the details would be revealed between "now and the next election".
Labor's climate change spokesperson Chris Bowen had earlier said they would not call on the government to sign the methane emissions pledge. 
"We are not calling on the government to sign that pledge," he told reporters. 
"What we are calling on the government to do is to work with farmers and work with agriculture to reduce methane emissions." 
But Labor leader Anthony Albanese has continued to criticise the government's net zero approach ahead of the international climate talks.
"What we've seen [from the government] is net zero policies, net zero costings and modellign and net zero genuine commitment," he told reporters.
The opposition has said it will release its own 2030 emissions reduction and climate plan following the Glasgow summit. 
Source link