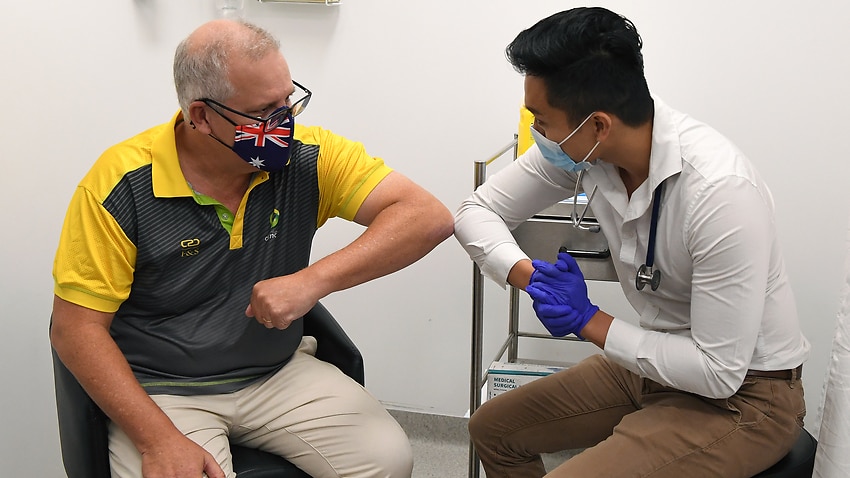 An 84-year-old woman has become the first person to receive a coronavirus vaccine in Australia after a small group of aged care residents, frontline workers and the Prime Minister received their jab on Sunday ahead of the national roll-out. 
Aged care resident Jane Malysiak was first in line for the Pfizer/BioNTech vaccine after Health Minister Greg Hunt revealed a small group of people would receive the vaccine at Castle Hill Medical Centre in Sydney, a day before the national vaccination program commences on Monday.
Prime Minister Scott Morrison, who also received his first dose on Sunday, was by her side as she received her jab to applause from the crowd.
Mr Morrison described it as a "historic day" for the country before he rolled up his sleeve.
"We're here making some very important points that it is safe," he said. "That it is important and we need to start with those who are most vulnerable and are on the frontline and that is why they will be taking the first vaccines today."
Some aged care staff, frontline workers, defence personnel, the Chief Medical Officer Paul Kelly, and Chief Nursing Officer Alison McMillan also received their first dose on Sunday "to provide confidence", Mr Hunt said.
Thomas Rasmussen, who lives with an intellectual disability, said he was "very excited" to be among the first people in Australia to receive the vaccine, giving a thumbs up after it was over. 
Mr Hunt also revealed that Opposition Leader Anthony Albanese, two other members of the opposition, and Greens Leader Adam Bandt had been invited to receive their first doses during the first week of the rollout, while he would receive the AstraZeneca vaccine alongside federal health department secretary Brendan Murphy in the coming weeks.
Australia's vaccine rollout will begin with the Pfizer/BioNTech vaccine and expand to include the AstraZeneca/Oxford vaccine from early March.
During the first stage of the vaccination program, frontline health, quarantine and border workers will receive the vaccine at 15 Pfizer hubs run by states and territories, while a Commonwealth-led vaccination workforce will target aged care staff, aged care workers, disability workers and people living in disability accommodation in 190 towns and suburbs.
About 240 nursing homes will be vaccinated during the first week of the rollout, while there are plans for all aged care and disability accommodation residents to be inoculated over the following six weeks. 
Mr Hunt has previously said the government hopes to administer 60,000 vaccine doses in the first week of the rollout. 
He refused on Sunday to name the government's target for vaccine coverage, instead stating the government would like to see "as many [people] as possible" get the jab.
"Our first goal is protection," Mr Hunt said. "What we see with both the two initial vaccines, the Pfizer and the AstraZeneca vaccine, the international evidence is that the safety impact for prevention of serious illness, hospitalisation, death, has been determined to be up to 100 per cent."
A survey by the Australian National University released earlier this week revealed a large decline in the number of people who said they were likely to get the vaccine once it's available to them.
Those least likely to get the jab were women, Indigenous Australians, people who speak a language other than English at home and those who have not completed Year 12.
"What's the message for the public? It's safe, it's effective, it will help protect you, but it will also help protect your mum and dad, your grandparents, your nonna, all of Australia," Mr Hunt said.
Source link