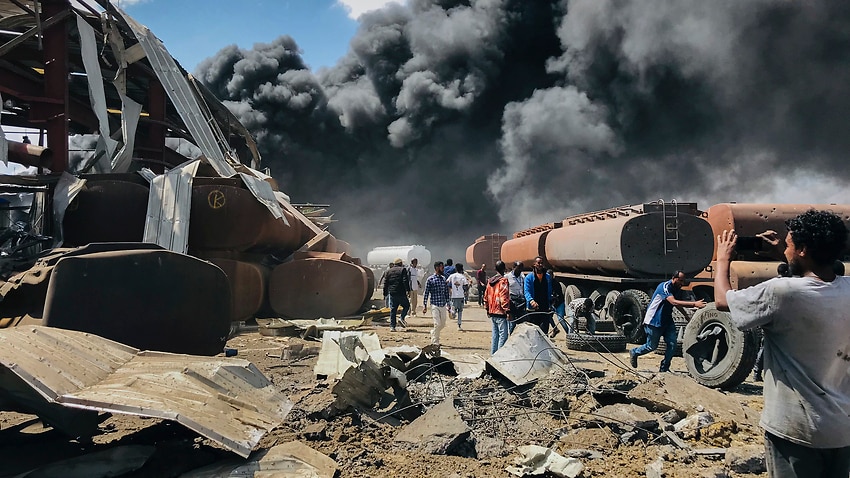 A spokesperson for the Department of Foreign Affairs and Trade says it is "aware of cases where police have arrested and detained people, including Australians and that "searches of individuals and residences can take place at any time." 
"The Australian government is gravely concerned by the rapidly deteriorating security situation in Ethiopia and calls for all parties to the conflict to immediately cease hostilities and work towards a negotiated solution," they said in a statement on Thursday. 
"We advise Australians to leave Ethiopia immediately while commercial options are available."
The spokesperson said flight availability could change or be suspended at any time and without notice.
"Australians should not rely on an expectation of emergency evacuation flights," they said. 
"DFAT is calling all registered Australians in Ethiopia, or family representatives, to offer assistance connecting with commercial flights."
The travel advice for Ethiopia is currently set at 'do not travel' (level 4) due to "the ongoing civil unrest, armed conflicts in the north of the country and the risk of further conflicts spreading to new areas without warning."
#Ethiopia: Leave immediately while commercial options are available. Do not delay. Emergency evacuation flights may be impossible. Consular assistance is extremely limited. For urgent consular assistance or to register call +61 2 6261 3305. See https://t.co/jLDXgvds44
Ethiopian Prime Minister Abiy Ahmed has reportedly joined the frontline where government forces are battling rebels from the northern Tigray region. 
Mr Abiy, winner of the 2019 Nobel Peace Prize, "is now leading the counter-offensive" and "has been giving leadership from the battlefield as of yesterday," state-affiliated media Fana Broadcasting Corporate reported.
It was not clear on Wednesday (local time) where Mr Abiy, a former radio operator in the military who rose to lieutenant-colonel, had deployed. State media did not broadcast images of him in the field, and officials have not responded to requests for details about his whereabouts.
Ethiopia's Prime Minister Abiy Ahmed. Source: AP
---
Addressing reports of Mr Abiy at the frontline, the US State Department late on Wednesday warned "there is no military solution" to Ethiopia's civil war.
"We urge all parties to refrain from inflammatory and bellicose rhetoric, to use restraint, respect human rights, allow humanitarian access, and protect civilians," a State Department spokesperson said.
A day earlier, Washington's special envoy for the Horn of Africa, Jeffrey Feltman, said that "nascent progress" risked being "outpaced by the military escalation by the two sides".
Calls for a ceasefire
Other foreign envoys also have been frantically pushing for a ceasefire, though there have been few signs a breakthrough is coming.
On Wednesday, United Nations Secretary General Antonio Guterres called for a swift end to the fighting – comments made while on a visit to Colombia to mark the fifth anniversary of a peace deal between the government and former Revolutionary Armed Forces of Colombia (FARC) rebels.
"The peace process in Colombia inspires me to make an urgent appeal today to the protagonists of the conflict in Ethiopia for an unconditional and immediate ceasefire to save the country," he said.
The war erupted in November 2020 when Mr Abiy sent troops into Tigray to topple its ruling party, the Tigray People's Liberation Front (TPLF).
He said the move was in response to TPLF attacks on federal army camps and promised a swift victory, but by late June the rebels had retaken most of Tigray, including its capital Mekele.
Since then, the TPLF has pushed into neighbouring Amhara and Afar regions, and this week it claimed to have seized a town just 220 kilometres from Addis Ababa.
With additional reporting by AFP. 
Australian citizens in need of urgent consular assistance, including help to depart, should call the Consular Emergency Centre on +61 2 6261 3305.