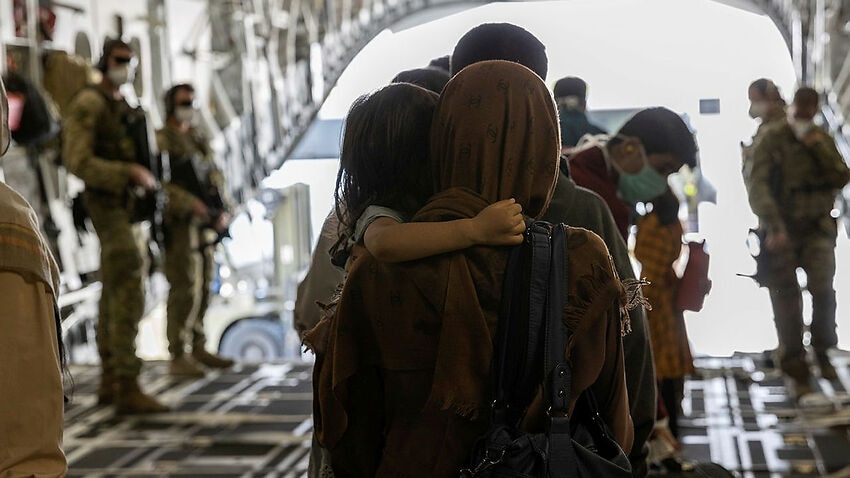 An Australian who's failed four times to get on evacuation flights out of Kabul says he's too afraid to try again, after his family was assaulted by the Taliban and his infant was almost crushed at the airport line.
The Afghan Australian man, Zia, said his toddler was pushed against a wall and brother whipped by Taliban fighters as they battled large crowds at the airport gate while attempting to get through to an evacuation flight on Friday night.
It was his fourth attempt to make it on the flight after being told by the Department of Foreign Affairs to head to the airport for a planned evacuation.
He says he can't risk his family's life anymore.
"I've given up, I've lost it," Zia told SBS News.
"If I continue to push my way to the gate, I fear for my little one. She's going to be pushed around, and the lack of oxygen – she might suffocate or she may faint."
There are reports several people have died at the airport lines, with some people being crushed to death, severely dehydrated and subject to violence as Taliban fighters guard checkpoints around the airport gates.
The sound of gunfire is constant as the militants have tried to control crowds by firing shots into the air.
Zia said many people in line are desperate but have no valid documents, and many are not moving when told to let others through.
"I've asked them what have you got in there? And they say, 'Oh, I've got a visa in my phone application', but it's just like some dodgy (file)," he said.
"You know people trying to, you know, they get their money and they probably send things like fake stuff to their account and they believe it's a visa."
The United States and Germany have told their citizens in Afghanistan to avoid travelling to Kabul airport, citing security risks as thousands of desperate people gathered trying to flee almost a week after Taliban Islamists took control.
Zia fears if he doesn't get out soon the security situation will become even worse and he'll be stranded.
"Because of the presence of American troops they're being soft, but when America leaves I think it would be absolutely difficult for us to get out of here," he said.
"So I fear for my life, I fear for the safety of myself and my family. It's very dangerous to be here."
Sydney flight agent Ali Sarwari said he knows of many others with small children who are giving up trying to reach the tarmac.
"They said that we give it up, we can't reach there," he told SBS News.
"This is a humanitarian crisis, devastating.
"It has a directly impact (sic) on Afghan Australian citizens, those who are trapped and stranded there."
Mr Sarwari said one of his clients is now sleeping at a shelter close to the airport in fear of missing a flight.
"One of our customers said that I didn't sleep for the whole night, I keep my phone in my hand (so) that I shouldn't miss the call (from DFAT) or the email."
On Thursday, a few of his clients rang the DFAT consular assistance line in Australia while they were waiting at Kabul airport, desperate for help.
It worked – a British soldier came to collect them from the line and took them straight through to board the awaiting military plane.
Prime Minister Scott Morrison has said Australian Defence Force troops cannot go beyond the tarmac because it is too dangerous.
On Sunday, he confirmed another 300 people were evacuated overnight, adding that further flights were planned.
He said authorities were doing the best they could dealing with a "very chaotic environment" and many Australians had not registered themselves with authorities until recently.
"We continue to make that communication and get as many people through as we possibly can in the time we have available, as safely as we can," he said.
"Many Australians who hadn't even registered as even being in the country a month ago, let alone a week ago."
SBS News understands other Australians trying to come home are using chat groups like WhatsApp to connect with fellow citizens they've never met before, and share information to get on evacuation flights.
Source link