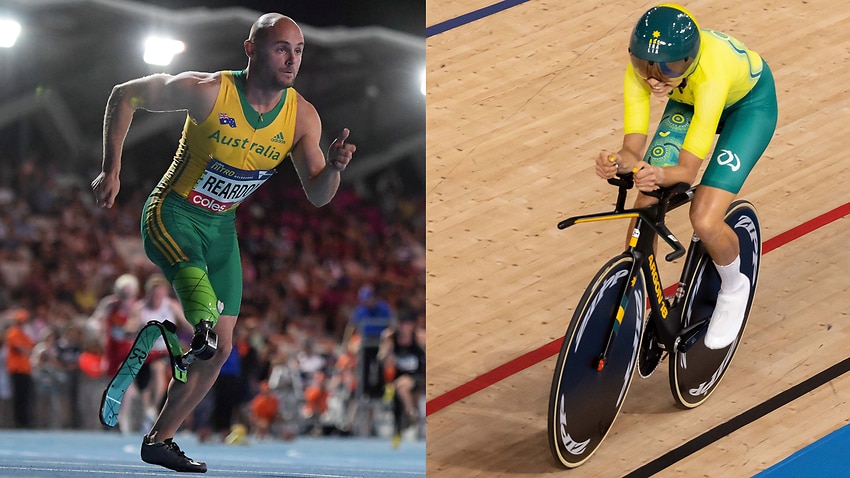 The theme for the Tokyo 2020 Games is 'unity in diversity', touting ideals of equality and acceptance. But when it comes to cash prizes for Olympians and Paralympians, in some countries like Australia and host country Japan, that is far from the case.   
In Australia, as in many countries, the national committees for the Olympic and Paralympic teams are responsible for funding the medal bonuses awarded to their athletes.
But Paralympic Australia, simply doesn't have the funds for medal bonuses – and they never have, a spokesperson has told SBS News. Meanwhile, Australia's Olympic Committee offers a cash prize of $20,000, $15,000 and $10,000 to gold, silver and bronze winners respectively.
Sprinter Scott Reardon is no stranger to a Paralympic podium. Named Australia's 2016 male Paralympian of the year, Reardon won a silver medal in his class in the 100m sprint at the London 2012 Paralympic Games, before claiming gold in the same event at the 2016 Rio Games in record time. At the Tokyo Games, he is the man to beat.

"In a perfect world, we would have equality across the board – in men's sport, women's sport, para-sport. But the reality is we are treated differently, and we lag behind," Reardon said.

Among other major nations, Canada also doesn't give out cash prizes to medal-winning Paralympians – even though funds are there for their Olympic medallists.
As for host country Japan, a gold-winning Paralympian is paid about $38,000. That's $25,000 less than their able-bodied counterparts.
For New Zealanders, no medal bonuses are paid to Paralympian or Olympian medallists.
From Tokyo, Reardon said for a point in time he believes the Australian Paralympic Committee was "basically broke". He said if the funds existed, he trusts Paralympic Australia would be all for it.
Ultimately, the absence of a medal bonus speaks to a wider issue of scant funding in Australian para-sport, said Reardon. 

"There's a lot of para-athletes who simply don't make much money. They have to work full-time and be a full-time athlete at the same time. It's not conducive at all to being the best in the world," said the 31-year-old.
"I know a lot of Paralympic gold medallists who do not have a sponsor, who do not have a commercial agreement with any company, and I think that needs to change."
Serena Ovens the CEO of the Physical Disability Council of NSW says as a population "we absolutely still see disability as something less".
"We prize our Olympians but still don't think our Paralympians have attained the same sort of elite level.
"Paralympians work as hard, if not harder, to get to where they're at to compete for their country."
Reardon says when it comes down to it, the Australian Olympic and Paralympic Committees are two separate entities competing for corporate dollars. 

"At the moment, for anyone in the corporate space who thinks this is not good enough, we almost need someone to step up," he said.
 
"We would have the ability in Australia if someone like Gina Rinehart – who funds sport already – stepped in. For her, it would be a small drop to be able to pay those medal bonuses out."
Separately, he hopes the silver lining of lockdowns in two major Australian cities will see more people sit down and watch. 


"With it being on commercial television, the bigger the audience that we have, the more businesses and people with money will realise that it's an investment and a platform for them to advertise," said Reardon.

 "Maybe then we can achieve equality."
Over the years, improvements have been made globally to close the award gap.

 Eight-time Paralympic medallist Oksana Masters celebrated in tears in 2018 when the US Olympic & Paralympic Committee announced US Paralympians would receive the same medal award as Olympians at the Tokyo Games.
Ms Ovens suggests improvements could be made to how donations are made or shared between the two entities. 


"I don't think it's fair that corporate or other bodies that sponsor Olympians don't equally sponsor Paralympians, so perhaps there is a piece of work there," said Ms Ovens.
Australian Para-cyclist Meg Lemon is hoping the early success in the Tokyo Games will see Team Australia score some more support.
"
I think some other nations are catching up to that equilibrium…I hope the awareness around that [pay] discrepancy can grow," said the 31-year-old.
"We only get money [to train] from the government if we win a medal at a world championship. It's hard to work and train at the same time. I hope our success and how hard we work is enough to show Australia that we are worth investing in a little bit more."
Paralympics Australia declined to comment. 
Source link