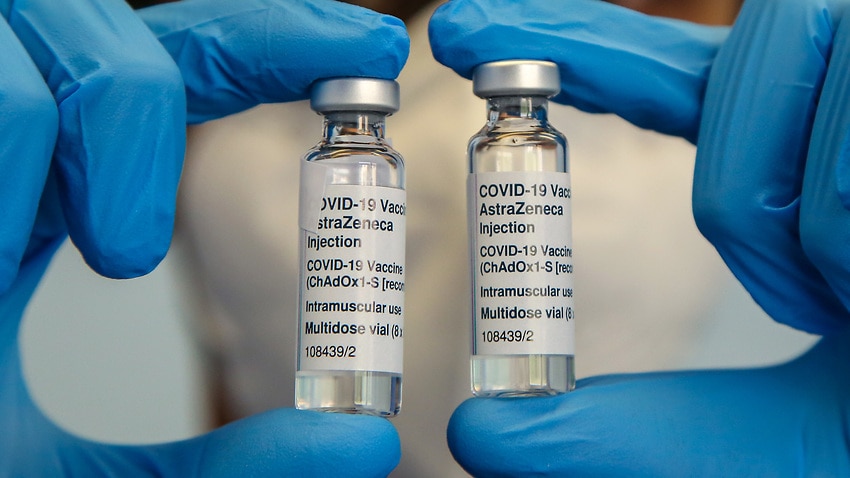 Federal health authorities are investigating three more cases of blood clots that are likely linked to the AstraZeneca vaccine.
The Therapeutic Goods Administration said it had reviewed suspected thrombosis with thrombocytopenia syndrome (TTS) in an 80-year-old Victorian man, a 49-year-old Queensland man and a 35-year-old NSW woman.
"The Vaccine Safety Investigation Group [VSIG] concluded that all three of the cases were likely linked to vaccination," the TGA said in a statement.
"All three patients are clinically stable, have responded well to treatment and are recovering."
The 80-year-old case marks the first Australian to be reported in a patient older than 50.
There have now been six blood clot cases most likely linked to the AstraZeneca jab, including 48-year-old Genene Norris, who died.
All six cases developed symptoms between four and 26 days after vaccination.
"The VSIG concluded that the events were TTS very likely linked to vaccination because of the consistency of the cases with the current working case definition for TTS, and the absence of known alternative risk factors and causes for the events," the TGA said.
"However, Australian estimated age-specific incidence rates are imprecise due to small numbers and will be updated as further information become available."
About 1.1 million doses of the AstraZeneca vaccine have been administered in Australia to date.
At the current rate, it will take until 2023 for all Australians to be vaccinated.
Those currently eligible for the vaccine include people over 70, staff and residents in aged care homes, disability residential accommodation residents and staff, frontline health workers, emergency service workers, border workers, quarantine facility staff, Aboriginal and Torres Strait Islanders over 55, and people with underlying health conditions.
Due to blood clotting risks, the Pfizer vaccine will be prioritised for people under 50.
On Thursday the government also announced plans to speed up the rollout by bringing forward AstraZeneca vaccines for people aged over 50 and booting up more state-run vaccination hubs.
"We're very confident that the Pfizer doses will continue to increase month by month in future months," Department of Health secretary Brendan Murphy told journalists after a national cabinet meeting.
"We hope that Australians heed the call to come out and get vaccinated."
Source link