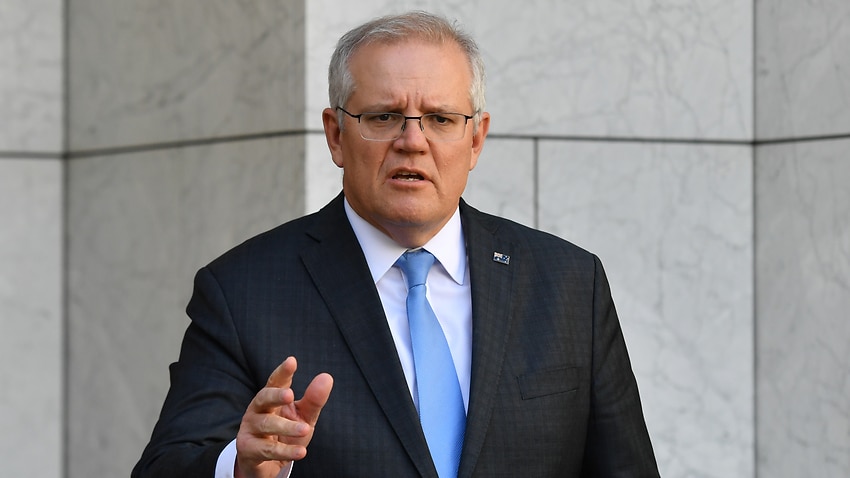 The Australian government has joined calls urging people wanting to flee the Taliban be guaranteed safe passage out of Afghanistan. 
The push for continued cooperation comes after the final United States military forces left the capital Kabul, ending its involvement in 20-years of conflict in the country. Australia's last troops left Kabul last week. 
The Taliban has offered assurances all foreign nationals and Afghan citizens with travel authorisation will be permitted to safely exit.
Speaking on Tuesday after the US completed its mission, Prime Minister Scott Morrison said he didn't take any window for people to flee for granted. He said he remained "cautious" about how "substantial" and "how long" this commitment could be relied on.
"Those commitments at face value, you have to be very careful about, but that doesn't change what you do," he told reporters in Canberra.
"Afghanistan is a place where the situation is deteriorating, as you know, the US has now completed their mission there. And so they move into the same phase as Australia does, as does the United Kingdom and many other countries."
It is not known how many Australian citizens and visa holders remain in the country, but options for leaving are now limited.  
The UN Security Council on Monday adopted a resolution calling on the Taliban to allow safe passage for those seeking to leave.
The resolution – drafted by the United States, United Kingdom and France – was passed with 13 votes in favour, with China and Russia both abstaining.   
It also stressed the need to maintain humanitarian access, uphold human rights, reach an inclusive political settlement and combat terrorism. 
Foreign Minister Marise Payne said the Taliban's undertaking was being watched closely by the international community. 
"It is an expectation in terms of the ability for safe travel and safe transit, that we are very focused on," she told reporters on Tuesday. 
"We know that for those who remain in Afghanistan, it is a question of very significant concern."  
The federal government has committed to welcome at least 3,000 Afghan nationals within its existing humanitarian intake this financial year.
It has described the figure as a floor, not a ceiling, with the prime minister indicating he would "like to see more".
Mr Morrison said the government would continue to work with its Five-Eyes partners and international agencies to bring people to Australia.
"We will work together to continue to provide as many people who we have worked with closely the opportunity for a new life in Australia," he said. 
Senator Payne added that people who had been granted temporary humanitarian visas who are still in Afghanistan would be contacted about next steps "when it is safe". 
"The processing of those visas continues to be a priority," she said.
Senator Payne held a phone call with US Secretary of State Antony Blinken on Tuesday about the unfolding situation in Afghanistan. 
The pair also discussed mutual efforts to assist Afghan refugees and partners, according to a statement from the United States Embassy to Australia.
Mr Blinken on Tuesday said the Taliban would be held to their commitment on "freedom of movement for foreign nationals, visa holders and at-risk Afghans".
"We will work to secure their safe passage," he said in a speech at the State Department.
Source link