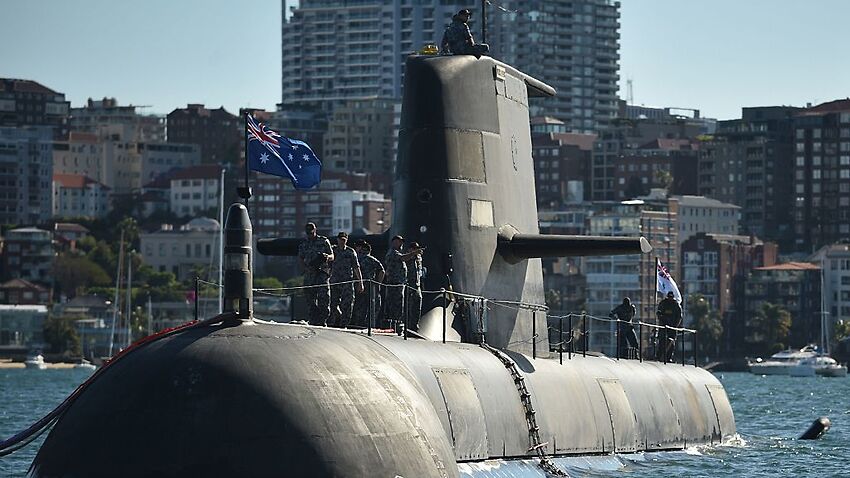 But after delays and problems with the deal, a joint virtual announcement was made on Thursday morning by Prime Minister Scott Morrison, UK Prime Minister Boris Johnson and US President Joe Biden.
Britains Prime Minister Boris Johnson, Australia's Prime Minister Scott Morrison and US President Joe Biden at a joint press conference in Canberra. Source: AAP
---
Mr Morrison said the three "friends of freedom" would launch an 18-month investigation into building the nuclear-powered submarines in Adelaide. 
"But let me be clear. Australia is not seeking to acquire nuclear weapons or establish a civil nuclear capability," Mr Morrison said. 
"We will continue to meet all our nuclear non-proliferation obligations." 
Mr Morrison confirmed Australia spent $2.4 billion on the scrapped French submarine deal for 12 Attack-class submarines.
"Of course they're disappointed," he said.
He stressed the decision did not reflect on the Attack class, Naval Group or the French government.
"If we were unable to access this technology to have a fleet of nuclear-powered submarines, then the Attack-class submarine is the best conventional submarine," he said.
The three nations also committed to a three-way partnership, called AUKUS, which will largely be focused on deeper defence and security ties.
Mr Johnson said AUKUS aims to preserve peace and stability in the Indo-Pacific region. 
"We're opening a new chapter in our friendship," he said. 
"The first task of this partnership will be to help Australia acquire a fleet of nuclear-powered submarines." 
The 18-month consultation period will determine workforce and training requirements, production timelines and safeguards on nuclear non-proliferation agreements.
Construction is expected to start before the end of this decade. 
Australia will become the first nation without nuclear weapons to acquire the submarines. 
Australia to acquire nuclear-powered submarines in new British-American deal
---
Mr Biden said it was a historic step to deepen and formalise co-operation between the three nations.
"We all recognise the imperative of ensuring peace and stability in the Indo-Pacific over the long-term," he said.
Mr Morrison said it was a next-generation partnership, built on a strong foundation of trust.
"We have always seen the world through a similar lens," he said.
"We have always believed in a world that favours freedom, that respects human dignity, the rule of law, the independence of sovereign states and the peaceful fellowship of nations."
It's badged as a way to secure stability in the Indo-Pacific region but appears aimed at bringing countries together in a show of strength against China.
With AAP. 
Anna Henderson is SBS News' chief political correspondent.
Source link