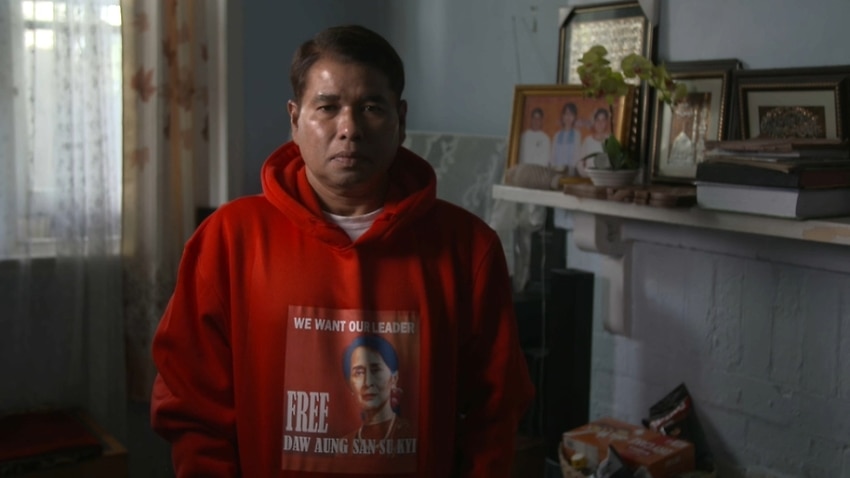 Iqbal Lian protected Aung San Suu Kyi for more than a decade during Myanmar's long fight for democracy. He was her bodyguard for 16 years and one of the few people by her side during her time under house arrest.
Now, Ms Suu Kyi is again at the mercy of the military following a coup on 1 February, and Mr Lian believes she will now face another long battle for freedom.
"I am worried that she will be in jail for many years," he told SBS News this week. 
When the military seized power, they detained and charged Ms Suu Kyi with illegally importing walkie talkies. She was due to be released on Wednesday but has since been charged with violating the country's Natural Disaster Law.
"They charge her for finding walkie talkie. It is very funny to charge her with that. They will do anything to jail her. We don't know what they will plot next," Mr Lian said. 
Mr Lian said the junta will continue its attempts to provide a legal excuse for her detention, adding it's a tactic they've used in the past. But Ms Suu Kyi, he believes, will likely be planning her next move.  
"This is the best time for her to prepare and rest.  She always says, 'They can arrest me for 10 years or 15 years.  I have so many books'. She won't waste her time. She will read. She will listen to international news." 
Political prisoner
Mr Lian, 51, is himself a political prisoner. He was jailed by the military for three years in 1993 for mobilising pro-democracy protests and served another seven years behind bars for his involvement in a foreign media interview on prison conditions in Myanmar. 
He arrived in Australia in 2008 as a refugee, where he continued his campaign for democracy, albeit from afar.
In 2011, Myanmar's nearly half a century of military rule came to an end and in 2015 Ms Suu Kyi became the country's first democratically elected leader. Three weeks ago, Mr Lian woke to discover the country's path to democracy had come screeching to a halt.
"I am very angry. For many years, our leaders and the people have been working hard to reach democracy goal," he said. 
While Ms Suu Kyi has been criticised over the treatment of the country's mostly Muslim Rohingya minority since being in power, she remains popular among the country's Buddhist majority. 
Since the coup, there has been sustained protests across Myanmar with hundreds of thousands of people taking to the streets in big cities and small towns to oppose the takeover. Demonstrations have also been seen across Australia.
But Mr Lian fears protests in Myanmar could end in bloodshed. Already, he said, the military has begun reverting back to its old playbook in an attempt to crush dissent. 
"They will go [to] any length in order to stay in power. They will arrest people, threaten them and jail them. You know that's their method. They are doing it and will not hesitate to do it. That's what they always do."
'Reliving 1988' 
Sydney-based Sophia Sarkis fears this latest uprising could end in the same way it did in 1988 when mass pro-democracy demonstrations across Myanmar resulted in the deaths of thousands.
"This military are ruthless, brutal, and I know they will do anything to take back the country," she said. 
Ms Sarkis, 43, witnessed the bloodshed firsthand as an eleven-year-old girl.
"A military truck came and start shooting to all the students that are peacefully protesting and they die right in front of my eyes," she said.  
Ms Sarkis and her family fled to Australia soon after and decades later she feels as though history is repeating itself. 
"It's like reliving 1988," she said. 
Ms Sarkis is among a large contingent of Burmese Australians campaigning against the coup. So far, she's organised a series of protests in Sydney.
On Monday night, she headed 'Justice for Myanmar,' an event staged at the Bryan Brown Theatre in the southwestern suburb of Bankstown. More than 100 people, including local and state politicians, showed up to discuss a way out of the crisis. 
During her opening address, Ms Sarkis delivered an emotionally charged speech.
"[We are] shocked, in disbelief, and most of all heartbroken to see the demise of our once peaceful country which has fallen into the hands of tyrants," she said, fighting back tears.
A rallying cry to the crowd then followed. 
"The Australian Burmese are with them and we are in this together!"
The theatre erupted in applause.  
SBS BURMESE: A Burmese-Australian 'rebel' on living through three coups in Myanmar
Since the coup, Burmese Australians have been staging demonstrations in major capital cities, calling on Australia's federal government to take stronger action against Myanmar's military officials. They're demanding that Australia join the US, UK, Canada and New Zealand in imposing sanctions.
The Department of Foreign Affairs has not responded to a request for comment from SBS News. 
Myanmar's military says the coup was justified, claiming there was fraud in Myanmar's 2020 election, which Ms Suu Kyi's party won. It will rule for a year before holding new elections. No evidence of fraud was found by the state election commission. 
Dr Myint Cho, a Sydney-based community leader, was a student during the 1988 uprising. 
"The people of Burma, including me, have seen very terrible bloodshed in the past," he said.  
"Today [we] do not want to see bloodshed. They do not want to live in a constant state of fear."
Mu Laing Thein is a journalist with SBS Burmese. 
Source link