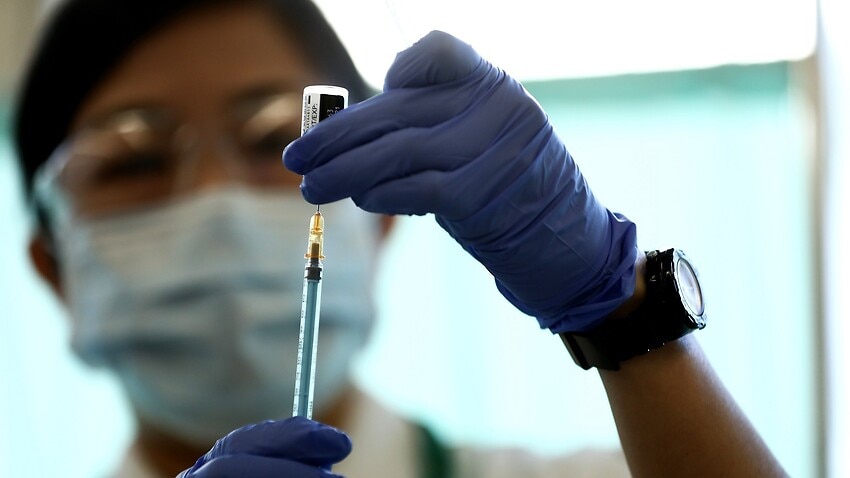 As the nation's coronavirus vaccine rollout nears, new analysis shows resistance and hesitancy to the jab has increased.
The Australian National University has released a survey of more than 3,500 people, which tracked their opinions towards vaccinations from before the coronavirus pandemic.
It has found a large decline in the number of people who are likely to get the vaccine once it is available.
In January, about 20 per cent of those surveyed said they probably or definitely would not get a coronavirus vaccine once health officials said a safe and effective one was available.
In August last year about 12 per cent of Australians felt that way.
Three in 10 people became less willing to get a vaccine between August last year and January.
Only one in 10 became more willing.
Females, Indigenous Australians, people who speak a language other than English at home and those who have not completed Year 12 became less willing to get the jab.
"These population groups are arguably the most urgent focus of any public health campaigns to improve willingness," study co-author Nicholas Biddle said
It comes as the Morrison government urges Australians to link their myGov and Medicare online accounts so they can easily obtain proof of their coronavirus vaccination.
Records on the Australian Immunisation Register will form the basis of the vaccination certificate all Australians, including visa holders, will be able to use.
The nation's vaccine rollout will begin on Monday, with states and territories focusing on quarantine hotel staff and frontline health workers.
There will be 16 Pfizer vaccine hubs in major cities where those workers will be vaccinated as part of the initial phase.
Thousands of aged care residents across more than 190 towns and suburbs will also be vaccinated against coronavirus in the first week of jabs.
About 240 nursing homes will be included for the initial week of vaccinations.
Health workers will be dispatched to vaccinate all aged care and disability residents over the next six weeks.
Health Minister Greg Hunt said the target was for 60,000 doses to be administered in the first week.
The AstraZeneca vaccine, which the majority of the population will receive, is due to be ready for use in early March.
You may have noticed SBS News is no longer available on Facebook.  
Here's where else you can find our content and follow us:
SBS News website: Save our website sbs.com.au/news as a favourite. 
SBS News app: Download our app from Apple's App Store or Google Play and subscribe to the alerts.
Apple News: Follow the SBS News channel here on an Apple device.
Twitter: Follow us at twitter.com/SBSNews
Instagram: Follow us at instagram.com/sbsnews_au
YouTube: Subscribe at youtube.com/c/sbsnews
TikTok: Follow us at tiktok.com/@sbsnews_au
People in Australia must stay at least 1.5 metres away from others. Check your jurisdiction's restrictions on gathering limits. If you are experiencing cold or flu symptoms, stay home and arrange a test by calling your doctor or contact the Coronavirus Health Information Hotline on 1800 020 080. News and information is available in 63 languages at sbs.com.au/coronavirus
Please check the relevant guidelines for your state or territory: NSW, Victoria, Queensland, Western Australia, South Australia, Northern Territory, ACT, Tasmania