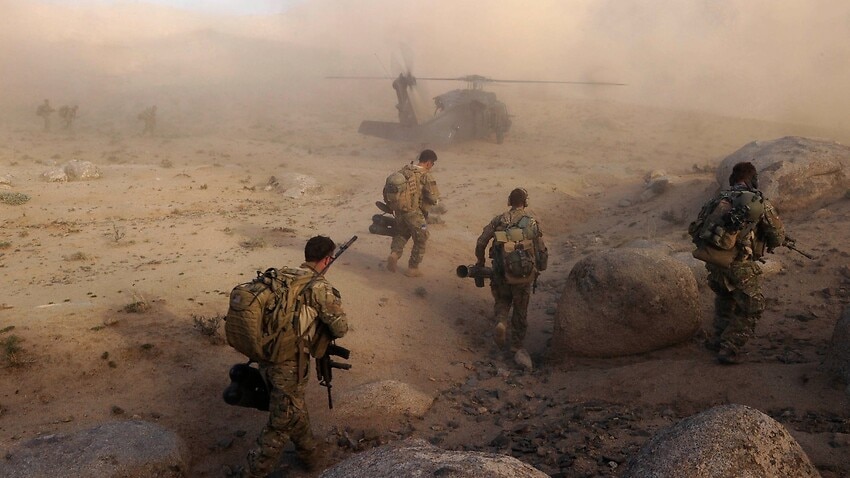 The Australian government says it now only has dozens of outstanding visa applications from former Afghan employees and will work closely with the United States to bring them to safety.
But as the Taliban's stranglehold on Afghanistan tightens by the day, advocates for the former interpreters and staff are warning there are hundreds more waiting for Australian visas, and now is the government's last chance to evacuate them.
The Taliban on Friday took control of Kandahar, Afghanistan's second-biggest city, leaving only the capital Kabul and pockets of other territory in government hands.
The Afghan government has now effectively lost control of most of the country, following a deadly offensive launched in May shortly after the US and its allies, including Australia, announced a withdrawal of their forces from the country.
The US has evacuated hundreds of its former Afghan staff in recent weeks to Virginia and plans to take more to Doha where their visas will be processed.
It is also sending in 3,000 troops to Kabul airport to help with a partial evacuation of staff from the US embassy.
Prime Minister Scott Morrison said on Friday Australia was continuing to process visas for former locally engaged employees (LEEs) to get more of them out of the war-torn country.
"We are liaising very closely with particularly the United States and others who are engaged in that area, and we will be working closely with them, including when necessary, using Australian Defence Force personnel to assist in securing that outcome," he told reporters in Canberra.
Mr Morrison said Australia had so far relocated 400 interpreters and other staff from Afghanistan since April.
"We will continue to implement that program with a great sense of urgency in partnership with those who also are engaged in similar activities in that region," Mr Morrison said.
Asked by a reporter what his message was to Australians that served in Afghanistan only to see the Taliban make such rapid inroads, Mr Morrison replied: "Fighting for what you believe in is always worth it." 
In July, the government said it had no plans to move its former staff out on US evacuation flights as commercial flights were still operational.
'Heartbreaking'
The Department of Home Affairs has told SBS News it now has fewer than 50 LEE visa applications left to process.
"The Australian government is working swiftly to ensure each case is considered and those at risk of harm who meet visa requirements are resettled to Australia as soon as possible," a spokesman said in a statement.
However, SBS News understands there are almost 300 former interpreters and staff of Australia's closed Kabul embassy still waiting to apply for the visas.
Advocates for the remaining Afghan staff say some have not even been able to apply for the visas because they are still waiting for the government to certify them as former staff members.
Former Afghan staff must receive certification from their Australian employer, the Department of Foreign Affairs, in order to be able to apply for the LEE visas.
The process has taken years for some people to be seen through.
Ex-Afghanistan army officer Jason Scanes said he is aware of at least 100 former interpreters who are still waiting for their certification.
"It's really heartbreaking and concerning to know you still got your mates left behind there," he told SBS News on Friday.
Patrick Ryan, who used to work at the Australian embassy in Kabul and is assisting local ex-staff on their LEE visa applications, said the certification processing was taking unnecessarily long given many were given security clearances long ago.
"These guys have held all of the biometric and security clearances from the ministry of interior now for years," he said.
"Those clearances were good enough for these guys to hold automatic weapons in close proximity to our diplomats and politicians."
'Wasted opportunity'
Mr Scanes said he'd received reports from interpreters in Kandahar the Taliban is on the hunt for those who'd worked with coalition forces.
"They said the Taliban are picking up kids and others and taking them around door to door to identify those that have worked with the Afghan government and interpreters," he said.
"It is a pretty concerning situation for those that had any association or affiliation to coalition elements in Afghanistan."
With the Taliban closing in on Kabul, Mr Scanes said now is Australia's last chance to get its former staff out safely.
"The only opportunity to reach people outside of Kabul is to conduct a military evacuation operation, and if we don't seize the opportunity of tacking on to those other coalition elements to go in and do that, I think it'll be a wasted opportunity," he said.
"I think it'll be one that we look back on as a nation, with great regret."
Source link