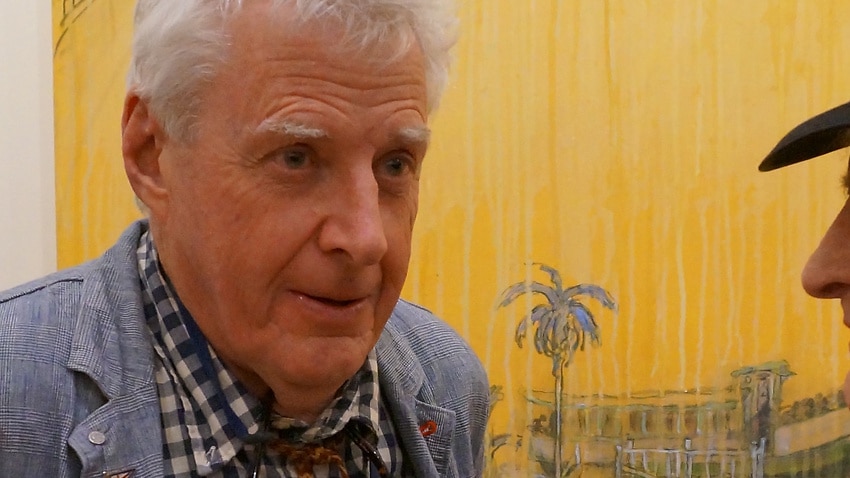 Celebrated artist Peter Kingston has become the latest Australian to reject his Australia Day award in protest of controversial tennis great Margaret Court receiving the highest honour, which he says "is contrary to the integrity and meaning of the award".
Ms Court is an outspoken opponent of same-sex marriage and LGBTQ rights, using the Bible to justify her stance.
News of her appointment as Companion (AC) of the Order of Australia leaked before the official announcement on Monday evening, prompting outrage. Canberra doctor Clara Tuck Meng Soo immediately announced she would hand back her award in protest, followed shortly after by veteran journalist Kerry O'Brien.
Mr Kingston, who is best known for his paintings that capture the energy of Sydney Harbour, was awarded the Medal of Australia in 2013 for his art and environmental activism after he helped to save harbourside icons such as Luna Park, Hinchinbrook Island and Nutcote, the home of May Gibbs, from development.
The 78-year-old said the awards aim to make the community a better place and Ms Court's recognition contradicts these objectives.
"In these fragile times where we are all up against a pandemic of anxiety I find Margaret Court's elevation to the highest order contrary to the premise the awards are given, that is to make our community a better place," Mr Kingston told the Sydney Morning Herald.
"I'm returning this award because I believe the elevation of Margaret Court is contrary to the integrity and meaning of the award and her effort in amplifying divisive opinions has not made our community a better place and contradicts the objectives of the award."
Mr Kingston said his decision was "not intending to undermine the efforts and immensely good works of the other people who have been recognised and not denigrate those who have been recognised but to highlight the need of people who have been marginalised by Court's hurtful, damaging and divisive attitudes to the LGBTQI + community".
"I couldn't think of a better use of the award than to stand up to religious bigotry," he added.
Ms Court was awarded an Order of Australia in 2007 for her sporting and charity achievements but this year she was upgraded to the highest level, the Companion of the Order of Australia (AC).
Members of the Council for the Order of Australia, speaking to the Sydney Morning Herald on condition of anonymity, labelled Ms Court's honour as a feminist move, saying the decision to elevate her to an AC was to address gender disparity after Australia's greatest men's tennis player Rod Laver received the honour five years ago.
The council said they expected publish backlash to the move, but after lengthy debate decided that Ms Court's controversial opinions should not get in the way of her extraordinary tennis achievements.
Anyone can nominate Australians for the Australia Day honours awards, with a council reviewing them before the governor-general gives the final tick of approval.
There has been mounting pressure in recent years for an overhaul of the awards system that some say favours Australia's men as well as political and social elites.
The selection process came under fire in 2020 after men's rights activist and accused rapist Bettina Arndt and Sydney dermatologist and accused "stealth rapist" Liang Joo Leow received an Australia Day honours. 
Governor-General David Hurley refused to revoke the awards but in 2020 admitted the system needs to be overhauled and vowed to restore confidence in it.
Dr Soo received her 2016 award for work in Canberra as a medical practitioner with the LGBTIQ+ community, people with HIV and drug dependencies.
She was one of the first GPs to undergo gender transition in Australia.
When returning her award, Dr Soo told the governor-general that by promoting Ms Court the council was telling LGBTIQ+ youth that discrimination and prejudice against them was tolerated in the Australian community.
Mr O'Brien was awarded for distinguished service to broadcast media and journalism. He planned to use the platform to promote the importance of the ABC and public interest journalism for democracy.
But in an email to the awards council, Mr O'Brien described Ms Court's criticisms relating to the fundamental rights of the LGBTIQ+ community as "hurtful and decisive" and "clearly repugnant to many Australians".
"The decision to award Australia's highest (civilian) honour to Margaret Court may serve to erode the hard-fought gains made over decades in reducing the impact of discrimination against members of the LGBTQ+ community – discrimination that has caused immense pain to untold people and destroyed lives," Mr O'Brien said.
Ms Court, who is now a pastor, is adamant that she would not return her honour.
"No (I won't give it back), because I loved representing my nation," she said.
"This was for my tennis and I think it was a long time coming and I'm very honoured … We did nothing but play for our nation."
She says she will never change her views but loves all people.
"We have them come into our community services, all kinds – whether they're gay, transgender, whatever they are," she told AAP.
"We never turn a person away and I think it's been tried to be made out that I'm somebody that I'm not really. And I think that is very sad."