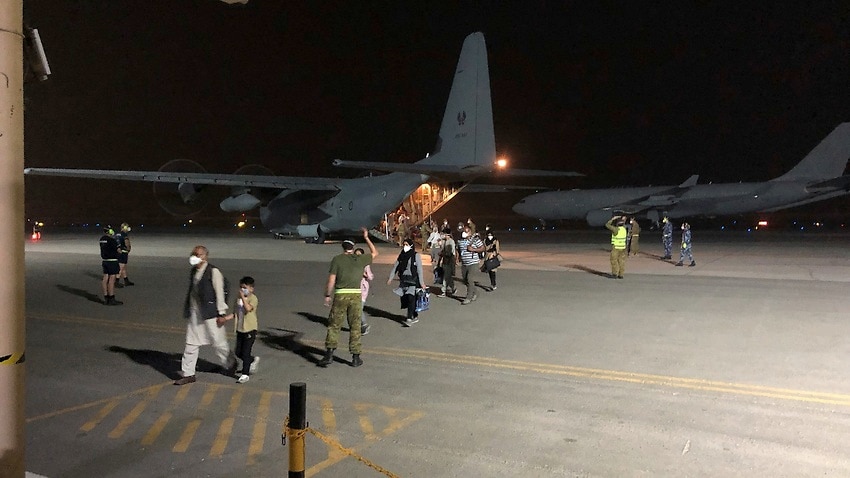 Prime Minister Scott Morrison has confirmed 76 Australians and Afghan visa holders were evacuated from Kabul with the help of British forces overnight.
It comes as Australians and visa holders stuck in Afghanistan are urged to head to Kabul airport for another rescue flight, set to leave on Thursday afternoon.
Mr Morrison said those already evacuated will be brought to Perth from the Al Minhad airbase in the United Arab Emirates later on Thursday.
"People are receiving medical treatment in Dubai and as you can imagine people will be taken out of Kabul, out of a very dangerous set of circumstances," he told reporters in Canberra.
The Department of Foreign Affairs and Trade issued a public notice on social media on Thursday afternoon, urging Australian citizens, permanent residents & Australian visa-holders to travel to Kabul's airport for an evacuation flight.
Twenty-five Australians and Afghan nationals, as well as one foreign official, were evacuated on Wednesday morning from Kabul on Australia's first rescue mission, despite the aircraft having room for more than 100 people.
Two large military aircraft have been on standby to deploy to Kabul to continue evacuation efforts.
While the environment is chaotic on the ground in Kabul, government sources in Australia have been told some interpreters who worked for Australia and Afghan nationals with visas managed to get on British flights overnight.
SBS News understands at least three of them were former interpreters for the Australian army. 
Mr Morrison also flagged the government could increase the number of refugee visas reserved for Afghans fleeing the Taliban could increase from the 3000 previously announced.
"We see this as a floor, not a ceiling, so we think we can achieve more than three (thousand)," he said.
"If the overall program has to be expanded, it will be."
Mr Morrison said he held a phone conference with Afghan community leaders earlier today discussing the issues around the refugee intake.
More to come.
Source link