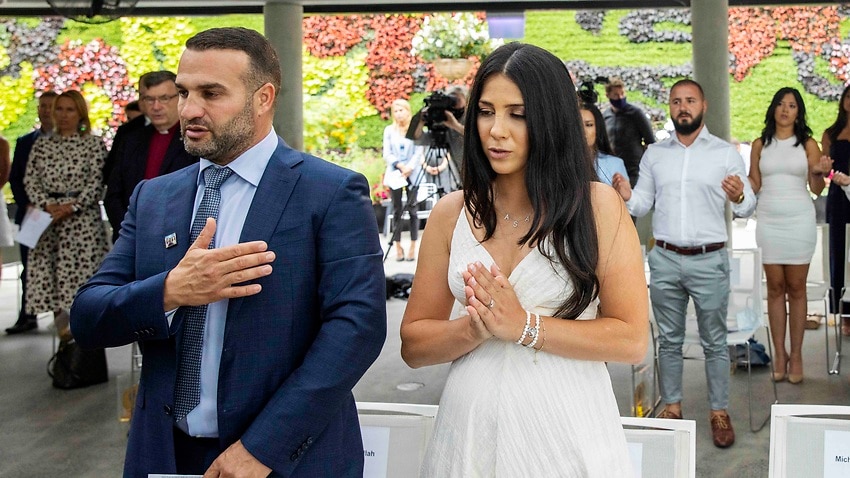 One year ago, the lives of the Abdallah and Sakr families of the western Sydney suburb of Oatlands were changed forever. 
An allegedly drunk driver's out-of-control ute mounted the curb and killed four children who were on their way to buy ice creams. 
Abdallah siblings 13-year-old Antony, 12-year-old Angelina and nine-year-old Sienna, and their 11-year-old cousin Veronique Sakr, were all killed in the horrific crash. 
In an event to mark the anniversary of their tragic deaths, their families have spoken of forgiveness towards the driver and urged people to reflect on the importance of relationships in their lives. 
Leila Abdallah said her faith as a Maronite Christian had helped her family through their grief. 
"We chose to turn our tragedy into a greater goodness. We chose to carry our cross with dignity. We chose forgiveness and love over hatred … Forgiveness is the greatest gift you can give yourself and to others," she said. 
"For non-believers, forgiveness frees up your emotions. It brings healing to a hurting soul and allows you to have peace in your heart," Ms Abdallah said.
"It starts in your heart, spreads to the family and reaches to the community."
Danny Abdallah said he forgave himself and forgave the offender for the good of his family. 
"This has allowed us to live in a state of peace and grace, and I promise you if my children were here today they'd say, 'Forgive him'," he said. 
"Friends, I am in pain. My days are empty, my heart is aching. Tears of hopelessness visit me each day. I am dying on the inside and it's hard to take much more," Mr Abdallah said. 
The families launched I4give Day in Sydney on Sunday with Prime Minister Scott Morrison and NSW Premier Gladys Berejiklian also in attendance. 
Four white doves and butterflies were released to honour the children. 
"With i4Give Day, you inspire us all to take the path of grace, to choose light, to keep the memory of your precious children as gifts to you, alive in countless acts of love," Mr Morrison told the gathering. 
"You chose not to hate, but to love. You chose to be a light in darkness. You chose grace. You trusted justice, not vengeance. And because of that, we might be tempted to think that there is something more than human about you. But you would be the first to tell us that that is not the case because you are humble, honest people," he said. 
The driver of the vehicle has pleaded guilty to four charges of manslaughter and other offences.
He is accused of having a blood alcohol level of three times the legal limit and having cocaine and MDMA in his system.
Readers seeking support can contact Lifeline crisis support on 13 11 14, Suicide Call Back Service on 1300 659 467 and Kids Helpline on 1800 55 1800 (for young people aged 5 to 25). More information is available at Beyond Blue.org.au and lifeline.org.au.