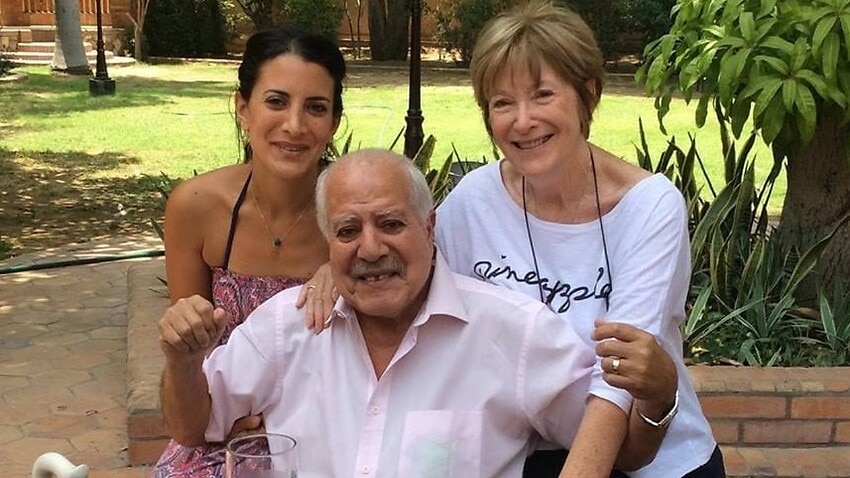 But with parents now recognised as immediate family, Mr Wyn-Jones said there is "hope and optimism" that cap numbers might increase to cater for the anticipated volume of exemption applications. 
"Certainly there is hope that WA will re-open its interstate border to fully vaccinated travellers in the coming months, particularly after all other states and territories have now committed to re-opening to these travellers by Christmas." 
'I want to go home'
Northwestern Perth resident Raquel Schwarcz-Young desperately yearned for a child and to begin family life with her wife Darcy.
But after a series of complications following her pregnancy left her with autoimmune disorders, leg fractures, and alopecia areata, the UK citizen wanted nothing more than to be with her mother in Israel to have some extra support. 
At the time, her wife was working in a FIFO role in Broome. 
Raquel Schwarcz-Young said she can't imagine a future for her family in Perth anymore. Source: Supplied
---
"I received three letters from my specialists outlining my conditions and recommendations that I should go home and take my son. Both my son and I were denied the exemptions," Ms Schwarcz-Young said. 
"The reason that was put in the [refusal] letter was that it wasn't in the interest of Australia for me to go home … But I didn't ask to come back [to Australia]. I just wanted to go home." 
After reflecting on the 16 months that transpired, she said she can no longer see a home for herself or her new family in a state she feels has neglected her. 
Raquel Schwarcz-Young with her wife Darcy and baby Ethan. Source: Supplied
---
"This has made me question how our government really feels about its people and its people who have worked hard to move here. 
"I can't think of anything worse than staying here now. It's hard to picture our lives here if this is going to continue." 
More than 35 per cent of WA's population were born overseas according to the 2016 Census. The WA Metropolitan Migrant Resource Centre (MMRC) says that is expected to increase to more than 40 per cent by this year. 
"COVID-19 movement restrictions have had a multi-layered impact on migrants. They have respected the state and federal restrictions but there have been consequences for the mental health and wellbeing of our migrant community," the centre said in a statement.
"The extended separation from family and uncertainty of borders has had a detrimental impact on them and their family unit leading to feelings of isolation and loneliness."
Reunions most likely in 2022
While the WA Government is waiting for high vaccination figures before setting a date to reopen, residents Ms Yousry and Ms Schwarcz-Young believe a concrete plan by Mr McGowan will encourage the eligible population to get their jabs sooner rather than later. 
Mr McGowan previously said the state would wait to hit a double vaccination rate between 80 and 90 per cent and then re-open six to eight weeks later. It is on track to reach 80 per cent before Christmas and will not open to Australian jurisdictions with COVID-19 cases until sometime in 2022, he has said. 
"We'll see what happens with community spread, so as of tonight we'll be open to Queensland, the Northern Territory, South Australia and Tasmania without restrictions, if they get community spread of the virus obviously we'll have to reconsider that," he said on Wednesday. 
He said he did not want to reintroduce restrictions for WA residents during the holidays. 
"Imagine Christmas where we have limits on the number of people who can go to someone's home, we have limits on the number of people who can have a picnic in public … on cafes, restaurants, pubs and bars… mask-wearing requirements indoors … I would prefer to avoid that."
"We will get to a reunion with Victoria and New South Wales sometime in the first half of next year."
A WA Government spokesperson confirmed in a statement to SBS News that WA's international arrivals cap will not increase, despite its residents being able to leave the country next week. 
"Our priority is the safety of Western Australians. To protect WA in the long term we all need to get vaccinated," the spokesperson said. 
"WA's international arrivals cap remains at 265 people per week."
Source link