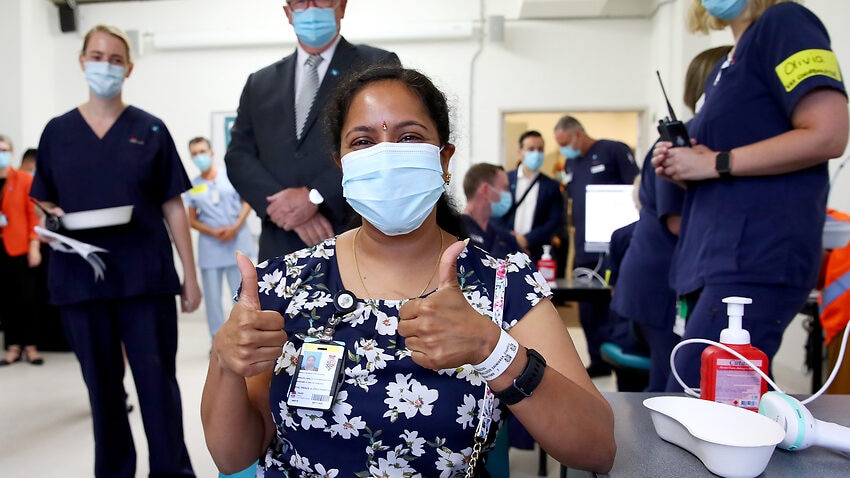 Health experts are urging all Australians to get the coronavirus vaccine once they are able to, as the start of the jab rollout is heralded as a milestone in the nation's pandemic response.
The rollout commences with about 60,000 Pfizer vaccine doses to be administered to priority groups.
The first Victorian to roll up their sleeve and receive the Pfizer vaccine on Monday morning was Rhonda Stuart, the head of infection control at Monash Health.
"I'm really proud to be getting this vaccine and starting the next chapter in our work against COVID," she told reporters.
"Now the aim is to get all our healthcare workers vaccinated and then out to the public as well."
Professor Stuart's team treated Victoria's first confirmed COVID-19 case in January last year and hundreds of others since.
"It's 14 months since we saw the first patient. So amazing we've got to this stage where we can be vaccinating people to protect ourselves against it, it's really wonderful," she said.
Nurse Rachel Hogben, who manages the intensive care unit at Dandenong Hospital, said she felt relieved to receive the jab.
"I'm actually a little bit more emotional than I thought that I would be. Very relieved," she said.
"I feel like this is the way forward … we're no longer acting defensively against this, we're now on the offensive and it's an amazing day."
Health and border control workers, and aged care residents and their carers have started getting the Pfizer vaccine on Monday, at hubs across the country.
But Australia's deputy chief medical officer Michael Kidd concedes about 20 per cent of the community are hesitant towards getting a vaccination against coronavirus.
Such a view was on show at the weekend when the Australian Open final crowd booed at the mention of coronavirus vaccinations.
Dr Kidd has sought to assure Australians the medical regulator has undertaken rigorous testing to ensure the jabs are safe and efficient.
"Please, when it comes to be your turn, please line up along with the rest of us and get your vaccine," he told the ABC on Monday.
"Today is a real milestone in our collective response to tackle COVID-19 and bring things as rapidly under control as we can."
Frontline workers including police officers have started receiving COVID-19 vaccinations in NSW, with 35,000 jabs to be administered in the next three weeks.
The rollout started at Sydney's Royal Prince Alfred, Westmead and Liverpool hospitals on Monday, where uniformed police officers were among those lining up.
Some 500 recipients, deemed high-risk through their close work with confirmed and potential coronavirus cases, were given the jab at RPA, where Premier Gladys Berejiklian promoted the benefits of the vaccination.
"By the end of October, I hope everybody who is offered the vaccine in NSW, which should be the whole population, does have it by that time," she said.
"It does mean we can think about the settings, overseas travel, easing of restrictions."
A thousand people are due to receive the vaccination on Monday at the three hospitals.
Vaccinations are starting with the Pfizer inoculation for recipients including those employed at quarantine hotels, people screening airport arrivals, health staff, cleaners, police and security.
There will be more than 1000 vaccinations at RPA every day in the next three weeks, plus more at Westmead and Liverpool
"Until we complete 35,000 in the first three weeks in those first three hospitals," Ms Berejiklian said.
All quarantine hotel workers in NSW – about 6500 people a week – will be included in the initial rollout of the jab.
Vaccinations are not compulsory for aged care workers, but the nation's top medical panel are still considering the issue.
Aged Care Minister Richard Colbeck said any changes would be based on advice from medical experts, but he expected most workers in the sector to get the jab.
"That's the indications that we're seeing so far, not just in aged care but I think there is a great anticipation in the community," he told Sky News.
Aged care resident Jane Malysiak, 85, who survived World War II in Poland as a child before migrating to Australia, was first in line for the Pfizer vaccination on Sunday.
Health Minister Greg Hunt and the head of the Health Department Brendan Murphy will get the alternative AstraZeneca jab when it becomes available, which is expected to be next month.
The government is committed to offer COVID-19 vaccines to all Australians by the end of October.
Both the Pfizer and AstraZeneca vaccines require two separate doses for a person to be fully immunised – Pfizer 21 days apart and AstraZeneca 12 weeks apart.