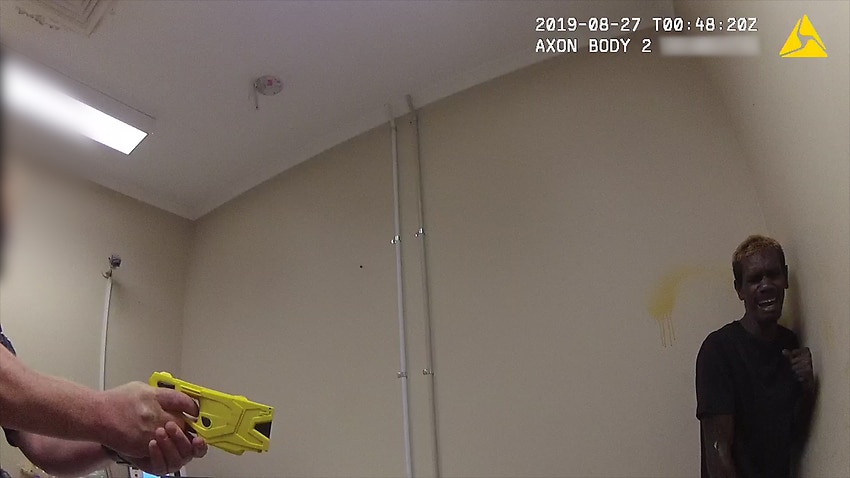 An Aboriginal man pepper-sprayed and tasered in a remote Top End police station has won an appeal against convictions for resisting arrest and assaulting two police officers. 
The moments prior to Johanness Manggurra's arrest show him being pepper sprayed, tasered and handcuffed before being escorted to an empty jail cell at the Numbulwar police station in the Gulf of Carpentaria in 2019. 
It was here the 24-year-old was charged with resisting a member of the police, unlawfully assaulting two police officers, and behaving in a disorderly manner in a police station.  
Mr Manggurra appealed three of the four charges. 
The Northern Territory Supreme Court on Wednesday ruled in favour of Mr Manggurra – noting alternative measures could have been taken when making the arrest. 
Supreme Court Justice Judith Kelly said the actions of police "escalated, rather than de-escalated the situation".  
"I have reasonable doubt whether the police officers were acting in the execution of their duty," she wrote in her judgement.  
"There were reasonably available options, continuing to talk when the appellant made meaningful responses, negotiating to put the taser away and talk, giving the appellant the option of checking with his lawyer before handcuffing him and taking him to a cell. 
"It is at least reasonably possible that utilizing those options would have avoided the need for the use of force." 
The main appeal argument was that the force used by the police officers was not necessary or proportionate.  
Justice Kelly wrote that – for charges of assaulting or resisting arrest to be upheld – a police officer needed to be "acting in the execution of duty".  
She added that "the application of force is justified provided it is not unnecessary force". 
"If a police officer uses greater force than is justified, the officer cannot be said to be acting in the 'execution of duty'," she wrote. 
The North Australian Aboriginal Justice Agency said the treatment of their client during his arrest was "outrageous". 
"He was outrageously treated by police whilst in custody and this supreme court judgement is a vindication of the defence that we ran in the local court," NAAJA lawyer Gabriel Chipkin told SBS News.  
"It's reassuring to know that justice has finally been delivered." 
Mr Manggurra went to the local police station voluntarily on August 2019 to pay some fines, and while there was told a judge made a mistake in a previous court appearance and that he was now in breach of his parole. 
"Instead, it ordered the appellant's release, and he returned home to Numbulwar believing all outstanding matters had been finalised," Justice Kelly said. 
Another conviction against Mr Manggurra of behaving in a disorderly manner was not appealed in the Supreme Court and still stands.  
The Northern Territory Police said they would not comment as 'the matter is a current complaint against police being investigated under the auspices of the Ombudsman Act 2009.