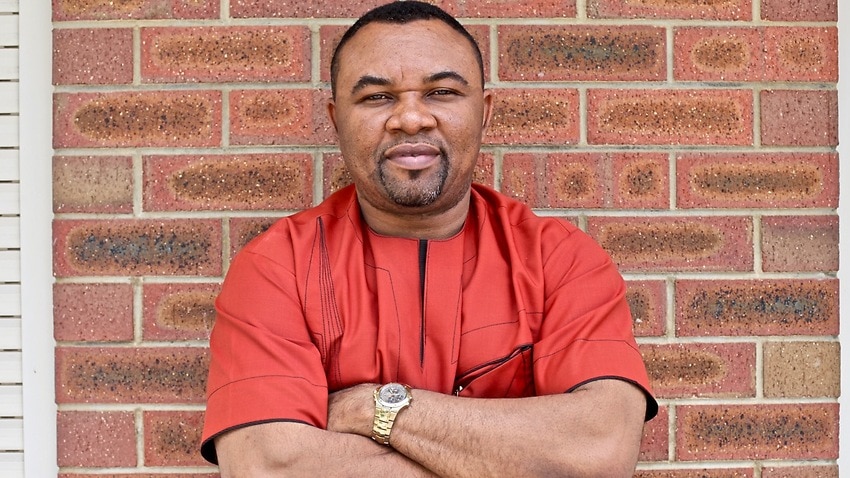 Joseph Erakaha moved to Australia five years ago after studying to be a nurse in Nigeria. 
The 38-year-old says he left at a time of worsening police brutality that often targeted students.
"It's a common sight to see police checkpoints on the road, especially when you drive. So you get to be worried … you hear cases of people being shot at," he tells SBS News.
Joseph now lives in Perth and has permanent residency status in Australia, but his wife, family and friends remain in Nigeria.
Last month, thousands of people in Nigeria protested against police brutality in the country, with similar demonstrations held by the Nigerian diaspora in cities across the world, including in Australia.
"It was a distress call to say to the government that we don't feel safe. 'Help us'," says Joseph, who joined a protest in Perth.
"The protests … most Nigerians would say were long-awaited. There have been ongoing reports of police brutality and unprofessionalism for many years. I was not surprised."
In 2016, 26-year-old student Regina Isaac was reportedly shot five times by police during a student protest at Nigeria's University of Port Harcourt.
Her mother, Esther Dongasu, who now lives in Jakarta, tells SBS News: "The gunshot happened around 8pm in the night. She died around 3 to 4am in the morning, so she went through so much pain – no one cared".
"And then when she died, she was left outside the hospital for her family to find her the next day." 
Esther says police explained Regina's death as an accidental discharge of a weapon and no one was charged over the incident. 
"They've taken something away from me … it's so painful. She was a blessing to me".
#endSARS
A recent history of escalating concerns over police brutality in Nigeria came to a head last month when widespread protests took place in Lagos and other cities. 
Demonstrators called for an end to the Special Anti Robbery Squad, or SARS, a police unit accused of corruption and abuses of power. 
The anti-SARS marches morphed into protests campaigning for police reform and an end to what demonstrators said was bad governance in the oil-rich country.
But after protests gave way to the looting of government warehouses, the military was deployed.
Amnesty International estimates 56 people were killed during the demonstrations, including 12 demonstrators at Lekki Toll Gate on 20 October. Both the army and police both denied any involvement in the Lekki Toll Gate shootings.  
While the protests have now largely calmed in Nigeria, some in the Nigerian diaspora in Australia say they are still concerned about family, friends and the future.
"We've heard and seen stories of our young people being attacked by live fire, by government agents, the police and army, in response to civil protests," says Dr Pedus Eweama from the Council of Nigerian Associations, who is based in Perth. 
"Lives have been lost and we want the government to be held to account. 
"People are distraught … some of them have been victims of police brutality for a long time. But right now, things are coming to a head because of the response to these demonstrations. People have been killed and the news is reverberating to Australia."
Dr Eweama has been in Australia for 16 years, but returns to Nigeria often to visit family.
He says that while he was a university student there, he was arrested by police for no reason and held in a police station until a family member paid a "bribe".
"Police will arrest you [for any reason]. They can ask for a bribe, and if you say no, they can beat you up, torture you, ask you for money, impound your car, they can lock you up in jail."   
The push to disband the SARS unit and reform policing in Nigeria culminated in protests that spread to cities around the world along with the #endSARS hashtag. 
Graphic videos flooded social media, reportedly showing protesters gunned down by authorities. 
At the height of the protests, Australia's High Commissioner to Nigeria, Claire Ireland, issued a statement, calling for issues of police brutality to be addressed.
"I am alarmed by the shooting of protesters … and the subsequent violence throughout the city," the statement said.
"The Australian High Commission calls on authorities to deescalate the situation and protect demonstrators exercising their right to protest peacefully".
Nigeria's President Muhammadu Buhari has promised to disband SARS and establish tribunals to hear complaints of police brutality.
Judicial panels set up across Nigeria to hear petitions of human right violation by the disbanded Special Anti-Robbery Squad have commenced their public hearings.
The Nigerian government has promised reform of its security services before, promises that ultimately led nowhere.
"For far too long, Nigerians have suffered at the hands of police. It is not uncommon for a person to be killed extra-judicially, without a trial, by police or the military," Dr Eweama says.
"We need reformation of the Nigerian police. And not just in the centre of Abuja [Nigeria's capital]. We need local police, run by local people who know the local problems."
We Thank To Our Readers For Your All Contributes. We Still Seek Your Support In Pandemic CoronaVirus.
Donate Bellow For Better Future
[charitable_donation_form campaign_id=57167]