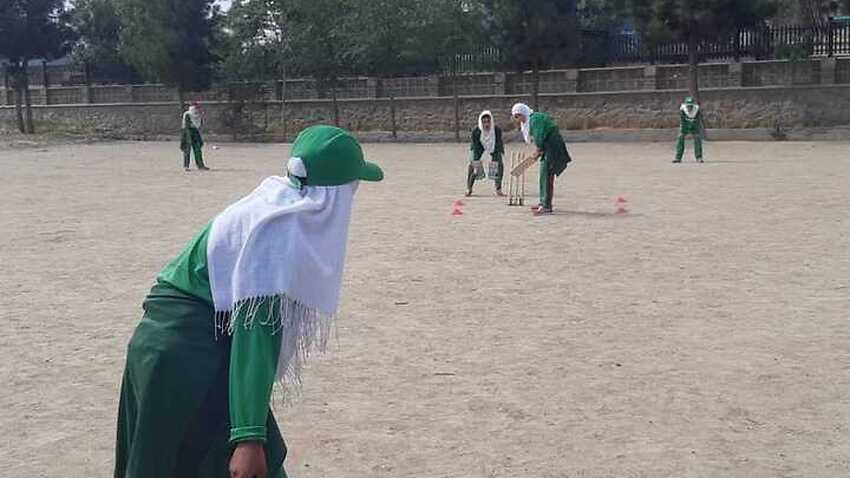 "We ask Cricket Australia and the whole cricketing world to keep the door open for us, walk with us, do not isolate us and avoid penalising us for our cultural and religious environment," Hamid Shinwari, CEO of the Afghanistan Cricket Board said in a statement.
Earlier this week, Cricket Australia warned that it would have "no choice" but to cancel the historic men's cricket test between Australia and Afghanistan in Hobart on 27 November, following comments by the deputy head of the Taliban's cultural commission, Ahmadullah Wasiq.
Mr Wasiq said he didn't envision women being allowed to play cricket because sport was "not necessary".
"In cricket, they might face a situation where their face and body will not be covered," he told SBS News in an exclusive interview.
"The Islamic Emirate (the Taliban) do not allow women to play cricket or play the kind of sports where they get exposed."
The comments made global headlines and promoted a stern rebuke from the Australian government, which branded them "unacceptable".
Azizullah Fazli (right in black vest) was reappointed ACB Chairman last month. Source: ACB Media
---
The International Cricket Council said it was concerned by the apparent ban and would discuss the issue at its next board meeting.
But on Friday, the Chairman of the Afghanistan Cricket Board Azizullah Fazli said it would outline how women would be able to play cricket "very soon".
"We will give you our clear position on how we will allow women to play cricket," Mr Fazli told SBS Radio Pashto.
"Very soon, we will give you good news on how we will proceed."
He said all 25 women's cricket team players were still in the country and did not choose to leave on evacuation flights out of Afghanistan.
"The women cricket coach Diana Barakzai and her players are all safe and living in their home country," Mr Fazli said.
"Many countries have asked them to leave Afghanistan, but they have not left Afghanistan, and at the moment, they are in their places."
Mr Fazli also implored Cricket Australia not to cancel the proposed test match.
"We request … Cricket Australia that they shouldn't delay the historic cricket match between Afghanistan and Australia taking place," he said.
The Taliban told SBS News women would be banned from playing sport. Source: Getty Images
---
Mr Shinwari issued a press release urging Australia to avoid "knee-jerk" reactions to cancel the match, saying the ACB was "shocked" by the statement.
He said the ACB was "powerless" to change cultural attitudes that were pervasive in the war-torn country.
"If the CA decides to cancel the test match and isolate the Afghan men's national team, it will have no impact upon those cultural and religious values as they stand," Mr Shinwari said.
"We are concerned that, if other countries' cricket administrators follow CA, then Afghan cricket will be alienated from the cricket world, the development of cricket in our country will be stalled and, even more concerning, cricket may cease to exist in Afghanistan.
Afghanistan is one of 12 full members of the International Cricket Council that are permitted to play official test matches.
All full members of the ICC are required to have both a men's and women's cricket team.
Mr Fazli claims that when the ICC granted Afghanistan full membership in 2017, they were exempted from having a women's cricket team due to religious and cultural matters.
"Regarding the women cricket issue, when we were receiving full membership from ICC, we shared this with the International Cricket Council," he said.
Cricket Australia told SBS News despite the statement from the Afghanistan Cricket Board, it's position remains unchanged.
Source link