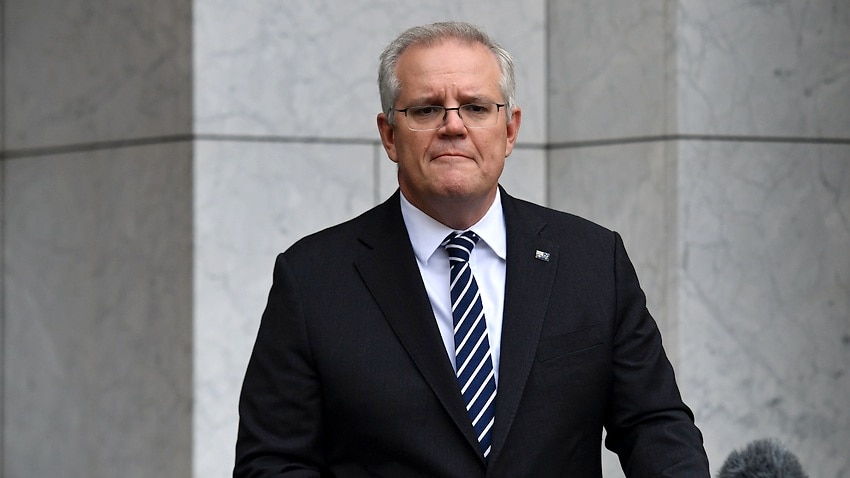 Australia is working closely with its allies and security partners as the situation in Afghanistan deteriorates, Scott Morrison says.
But the prime minister has declined to say whether Australian defence personnel are returning to the area.
The US has said it would be temporarily send about 3,000 extra troops to help move embassy staff faced with unexpected rapid gains made by Taliban militants that are further loosening the Afghan government's grip on the country.
The UK has also said it would deploy about 600 troops to help its nationals and local translators get out.
The final Australian troops left Afghanistan on 28 May and some 400 locally engaged employees and their families have already been resettled in Australia since April this year.
On Sunday Mr Morrison said the government is working closely with its allies and security partners to consider what further steps should be taken. 
"The situation in Afghanistan remains highly volatile and dangerous," he told reporters in Canberra.
"What I can assure that this task has the utmost urgency of the government."
"Our focus now is to ensure that we continue to support those who have aided us and ensuring that 400 people have already been brought to Australia as we have been working on this quite rapidly in recent months as the situation continues to deteriorate. We will continue to redouble our effort in that regard with our partners."
The prime minister said he would not be discussing any operational plans at this point "in order to maintain the security of those operations and of course to protect those who are the most vulnerable who are the subject of those operations".
"This has been a program which we have been moving on very urgently, very quickly, it is a very complex exercise and we have been continuing to keep our pace on these processes," Mr Morrison said
Mr Morrison said there was "no place more complex than Afghanistan".
"Australia and our allies have done much to secure their peace but this remains a very troubled part of the world not just recently but over generations and generations," Mr Morrison said.
"We went there with our primary purpose, as I've indicated, and that was to hunt down Osama bin Laden and prevent al-Qaeda using it as a base and mounting their attack. That was achieved but the challenge for the people of Afghanistan, sadly, remains an unresolved issue and we hope for the best for them but the situation is very dire."
What was currently happening in the country was "heartbreaking", in particular for the Australians who have served there, he said.
"I can only imagine how they are feeling today," he said.
Foreign Minister Marise Payne said reports of the Taliban's violence and treatment of women as it captures territory in Afghanistan is distressing.  
"This is a deeply disturbing situation. The security situation is clearly deteriorating."
Mr Morrison said he thanked Australian soldiers who served in Afghanistan. 
"We can only offer our humble thanks of a nation to them. And I don't believe any Australian who falls in that service dies in vain, because what we always seek to fight for, which is freedom, is always important in whatever course, regardless of the outcome."
With AAP
Source link