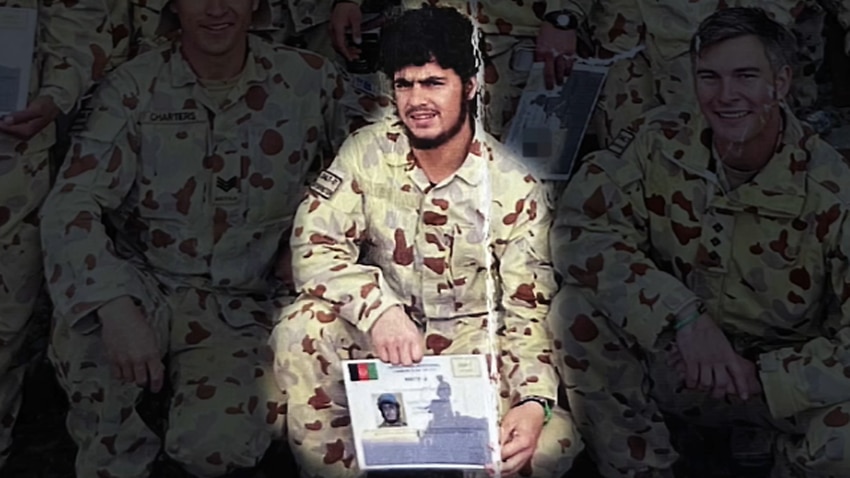 The family of a former Afghan interpreter who was killed while serving with the Australian military is calling on the federal government to help them leave a German refugee camp where they were taken after being evacuated from Kabul last week. 
The interpreter, Hashmatullah Amiri, was killed by the Taliban alongside an Australian soldier during an operation in the province of Uruzgan a decade ago, SBS News understands.
Since his death, his family has for years tried to evade Taliban capture and was forced to flee to Pakistan before living in hiding for several years in Afghanistan. 
The family was evacuated by the United States last week after they couldn't get on an Australian flight, and were taken to the Al-Maktoum US staging base in the United Arab Emirates. The base is less than two hours' drive from Australian authorities at the Al Minhad Air Base near Dubai.  
But instead of being transferred to the Australian-manned base, the family was put on a new flight to the Ramstein Air Base in Berlin and taken to a German refugee camp.  
The family has since been told by an American guard they could be moved again. One potential final destination suggested for them has been Uganda. 
'We are now in a camp in Germany'
Speaking to SBS News in Dari from inside the German camp, a family member who has requested anonymity explained their position after struggling to complete Australian visa applications.
"Australia has not helped us at all. Even a few hours ago, we put our case to them but they asked if we have a file number – and that's it. Other than that, no help," they said.  
The family member recounted to SBS News the journey that led to their eventual arrival at the German refugee camp.
The family initially attempted to make a visa application to Australia prior to the Taliban's takeover but fled to Pakistan over fears for their safety. 
Their application, the family member says, went "nowhere" and they were forced to return to Afghanistan after their visa for the neighbouring country expired.  
"Then eventually, the Taliban found out we had returned," they said.  
"Once again our lives were ruined, we had to flee and leave our home. We tried hiding in relatives' homes every other night, but they were scared of the Taliban too and told us to leave."  
The family member said other relatives had also become victims of the Taliban's violence. 
"The Taliban didn't find us – but they did find my uncle's house. They killed all his sons. They killed all of them." 
The family had placed its hopes on getting an evacuation flight from Kabul to resettle in Australia after the Taliban seized power, before being sent to the German refugee camp aboard the American flight.
"We are now in a camp in Germany. There are so many people here, food is scarce. And we're just sitting here, the Australian government has not helped us," the family member said. 
"I ask the Australian government, the people of Australia, please help the families of those who worked for Australia." 
'All we want is to rejoin our family'  
Hashmatullah's brother-in-law Nasir, who now lives in Newcastle in New South Wales, has also urged the government to intervene and resettle the family in Australia.
"All we want from the Australian government is to rejoin our family and give visas for them," he told SBS News.
He said Australian visa applications launched on behalf of the family had not yet been processed. 
"It is very urgent. We are very worried for them," he said.  
Prime Minister Scott Morrison was questioned directly about the family's situation during a press conference on Monday. 
He said any considerations for bringing individuals to Australia would be made on a "case-by-case" basis. 
"The key thing is for any refugee and any person who is seeking to flee persecution is you get them out of the place of persecution," he told reporters in Canberra.
He also said individuals who do have a claim to enter Australia's humanitarian program or locally engaged employee (LEE) program would "much better able to do that from another place" other than Afghanistan.
The Taliban's ascension to power has resulted in tens of thousands of people seeking to rapidly flee from Afghanistan's capital over fears for their safety.
US President Joe Biden has cautiously set a 31 August withdrawal deadline for evacuations to take place by but has indicated it may need to be extended.  
Foreign Minister Marise Payne said Australia would work with its Five Eyes partners throughout the evacuation process to support "those coming into Australia". 
"Every single country operating in Afghanistan right now is trying to remove as many people as they can to the safest place they possibly can," she told reporters on Monday. 
Australia has now evacuated almost 1,700 people from Afghanistan's capital through flights working alongside the United Kingdom and the United States.   
Source link