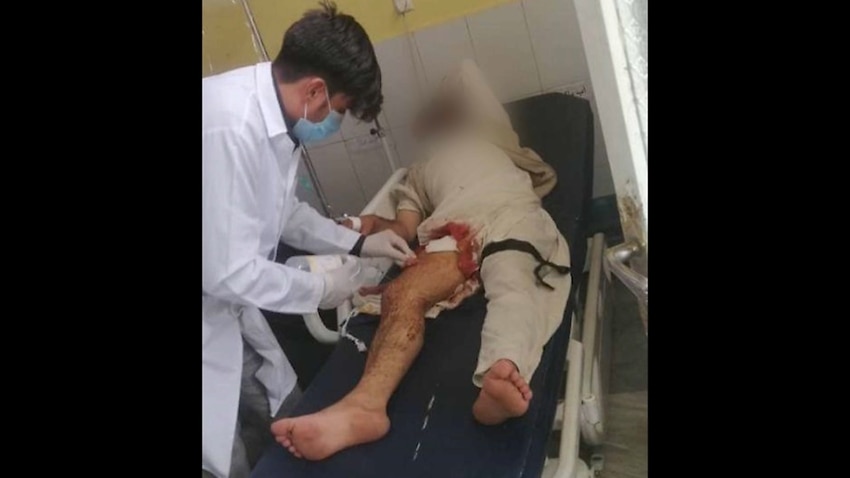 A former interpreter for the Australian army was allegedly shot in the leg by the Taliban while he was trying to reach Australia's first military evacuation flight out of Kabul airport on Wednesday morning.
Around 26 people were able to board the flight, including Australian citizens and Afghan nationals.
It's understood two interpreters who worked for Australia made it on the flight, but several others were turned away as they were not on a list for evacuation.
More than 100 former interpreters from various coalition forces were at the scene trying to flee, SBS News has been told.
One man, whose identity is being protected for his safety, said he had been waiting in line to reach the airport gate when a member of the Taliban, who was guarding a checkpoint, shot him in the leg.
He was later taken to hospital where doctors treated him for his wounds.
Photos obtained by SBS News show the man in hospital with a wounded leg.
"Yesterday I went to the airport of Kabul and Taliban shoot to me (sic). I am now injured," he said in a voice message.
The man served with Australians in Uruzgan between 2010 and 2011. 
Another former Australian interpreter who witnessed the incident said it was chaos as hundreds of people desperate to flee the country flooded the airport gates in an attempt to board the flights.
One woman was also shot during the fracas.
"We got scared, so we left," the former interpreter told SBS News in Dari.
"I couldn't stay with my kids in that environment."
He said the system of processing visa holders and citizens through the airport and onto flights must be improved to protect the safety of all those trying to flee.
The Afghan man suggested Australia follow the British system where people on a list for evacuation are apparently taken to a hotel before being escorted to the airport, instead of rushing to the gates on short notice and hoping to make it on the flight.
"Every time we go to the gate it's so busy, and there are shots flying," one of them told SBS News in Dari.
"It's too dangerous."
The rescue flight landed in the UAE on Wednesday afternoon. 
Prime Minister Scott Morrison has said more flights are being planned.
Source link