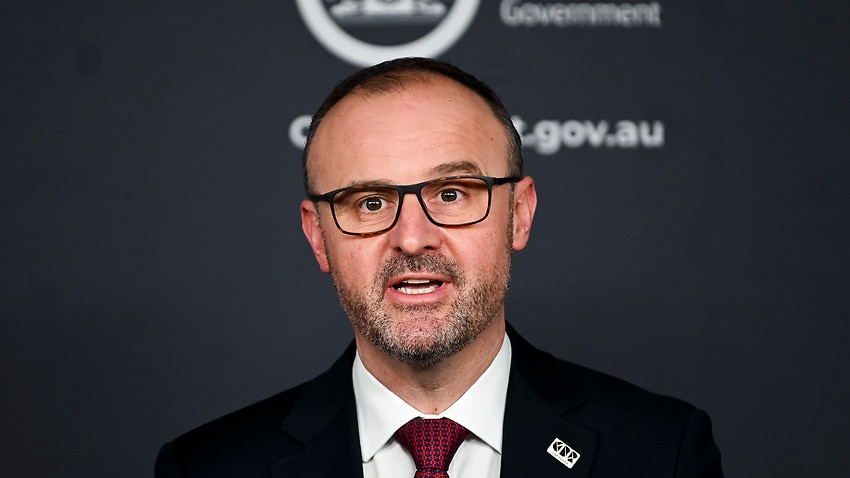 Chief Minister Andrew Barr said Canberra's lockdown would end on 14 October, but the ACT would begin to ease some coronavirus measures this week.
From Friday, Canberrans can have two people visit their home at any time, while the amount of time spent outside will double from two to four hours.
Nature reserves will also be able to reopen in Canberra, while some year 12 students will be able to return to the classroom for practical classes.
Mr Barr said restrictions would ease further on 15 October, once the lockdown eased.
Those measures would see licensed venues able to reopen subject to density limits, hairdressers reopen with up to five customers and gyms open with strict measures in place.
Five people would be able to gather at a home and gatherings of 25 could take place outdoors.
Most school students will also be able to return to in-person learning.
Restrictions will then ease again on 29 October, which would see up to 100 people inside or 150 outside in cafes, restaurants and pubs, outdoor attractions and for weddings and funerals.
Ticketed events will then be able to have 500 people, with all retail also able to reopen, alongside cinemas, museums and galleries.
Mr Barr also flagged a reopening of night clubs and food courts, as well as having larger events and gatherings, along with interstate travel towards the end of November.
However, that would be dependent on restrictions in other jurisdictions.
The chief minister said a gradual approach to reopening was needed in order to avoid higher case numbers and hospitalisations.
Of the new cases at least eight were infectious in the community, while seven were in quarantine for all of their infectious period.
There were 17 cases that were linked, with a further two cases under investigation.
The number of people in Canberra's hospitals due to the virus now stands at eight.Three are in intensive care, all on ventilators.
The ACT has more than 86 per cent of its over-16s with a first dose of the COVID-19 vaccine, while almost 61 per cent are fully immunised.
Source link