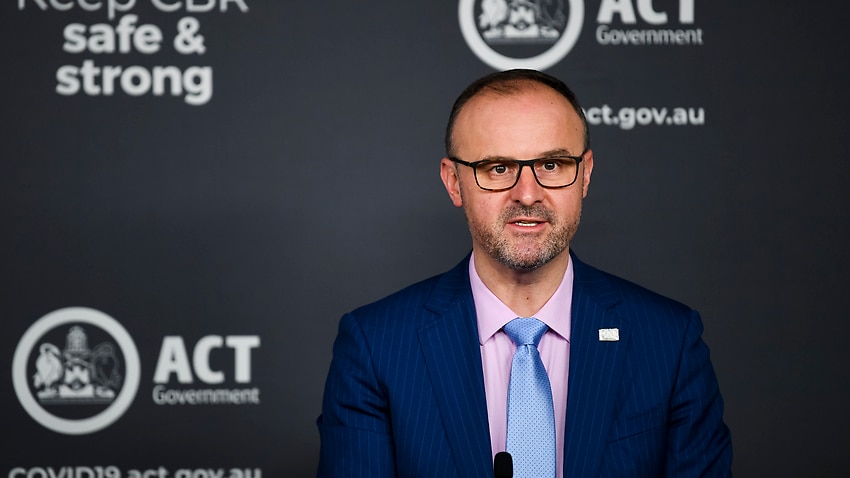 The territory has become Australia's first jurisdiction to cross the 80 per cent full vaccination mark for one age group – people aged between 75 and 79.
Overall, about 44 per cent of territory residents aged 16 and older are double-dosed, with 68 having received a single shot.
It comes as the Victorian government joins NSW in abandoning the goal of eliminating the Delta variant in the community.
Mr Barr backed Queensland Premier Annastacia Palaszczuk's call for more research about what reopening state borders and lifting restrictions would mean for children younger than 12.
Pfizer has only been approved for children over that age.
Mr Barr said he was concerned about the risks of leaving many children unvaccinated.
However, the federal government has advice the risk of serious illness in children is small, with three out of 3,815 being admitted to intensive care this year, and the best way to address it is the "cocooning" effect of parents getting vaccinated.
The chief minister also criticised "alpha male aggressive posturing" he said glossed over the nuance of national vaccination targets of between 70 and 80 per cent.
The Territory's lockdown, extended until midnight on 17 September, was aimed at buying as many people as possible time to get the jab.
An unvaccinated man in his 20s is one of two people on a ventilator. A total of 13 people are in hospital, four of them in intensive care.
"To the people who are not fully vaccinated, we are doing all of this for you to buy you the time to get vaccinated," Mr Barr said. "I wish we had more vaccines now, but we don't."
Pfizer bookings are open for people aged between 16 and 29.
But the jabs are unlikely to administered until October because of limited Commonwealth supply.
People can still talk to their doctor about getting AstraZeneca, which is more readily available.
The reproduction rate for the virus in Canberra is under one. This means each positive case will pass the virus on to less than one other person.
Of Thursday's 12 new cases, six were linked through household contacts, with eight in the community for at least some of the time while infectious. Canberra has 258 active infections.
Source link