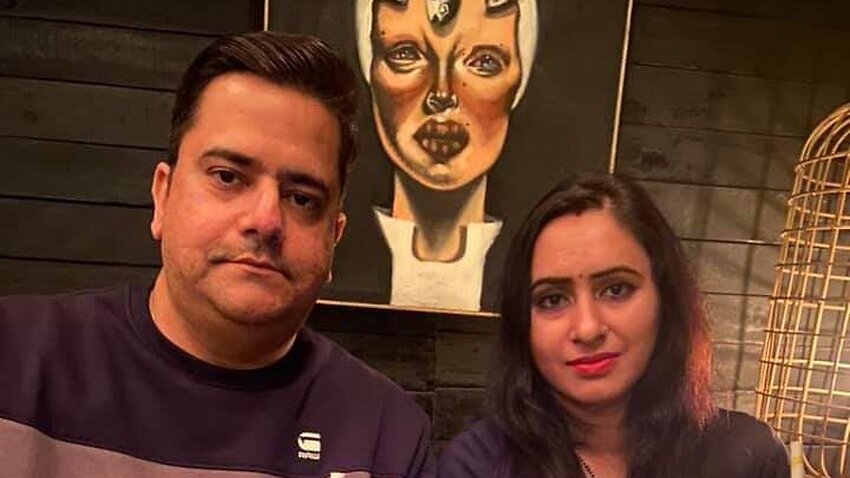 After 15 months apart, Kumar Daksh is overjoyed he'll soon be in the arms of his wife Anu once again.
Twenty days after the couple married in India in January last year, Kumar, an Australian citizen, decided to return to Australia.
International border closures brought about by the coronavirus pandemic have separated the pair ever since.
But in just a fortnight's time, the pair will be reunited, after Anu arrived on Australian soil on Saturday as one of the passengers on board a repatriation flight from India – the first since the government's controversial travel ban lifted.
"Finally the wait is over," Kumar told SBS News.
Anu touched town in Darwin on Saturday morning on the repatriation flight, which was half-empty after more than 40 people that were supposed to be on board returned positive COVID-19 results and around 30 others were deemed close contacts.
For Anu, a partner visa holder, she's just glad to be closer to her husband again.
"There was a sigh of relief that I reached Australia safely," she said from the Howard Springs quarantine facility, where she will spend the next two weeks.
"I was nervous travelling in this situation … we did proper social distancing on the flight, but I think everyone on the plane was scared due to the situation."
As India's second wave of COVID-19 began to escalate and Australia announced its travel ban, Kumar said he felt a sense of despair.
"It was horrible and devastating to see the sudden spike in COVID-19 cases in India," he said, adding that two of his friends there have died after contracting COVID-19.
"We were feeling totally depressed, as we both were separated. The news that all flights to Australia had been banned due to COVID put us both in trauma.
"We both had one question in mind: when are we going to start our new married life together?"
First India repatriation flight lands in Darwin
One of those to test positive to COVID-19 and miss out on a seat on the repatriation flight was Melbourne man Prashant Pandey.
"I'm just staying positive," he said.
"That's all you can do in these scenarios. You cannot gripe or nag about things, you just have to be positive."
Those who weren't allowed on the flight have been emailed by the Department of Foreign Affairs and Trade, which says those who have tested positive will need to prove they are no longer infectious before being considered for other flights.
Two more repatriation flights from India to Australia are expected before the end of the month, one on 23 May and another on 31 May.
Australia's High Commissioner to India Barry O'Farrell said a new ticketing system was being developed to take into account people who may not be able to board flights due to positive COVID-19 tests in the future.
"We will look to see what lessons can be learned from the experience," he told SBS News on Friday.
"But the flipside is we wouldn't want to be dragging people in who are classified as vulnerable from all over the country with the expectation that if someone perhaps tests positive, they may get a seat.
"That would be equally as cruel."
Treasurer Josh Frydenberg said on Saturday while the half-empty repatriation flight was disappointing, it was important that testing protocols are upheld.
"We have to maintain our health settings because we know how damaging – both to the lives and the livelihoods of Australians – an outbreak here would be," he told reporters.
More than 9,000 Australians are in India registered as wanting to return, with about 900 of them classified as vulnerable.
Mr Daksh urged the federal government to arrange more evacuation flights and increase Australia's quarantine capacity.
"It is really very hard people just want to get home. They want to start their life again. They're separated from their parents, they're separated from their kids," he said.
"It really is a very horrible situation right now."
Source link