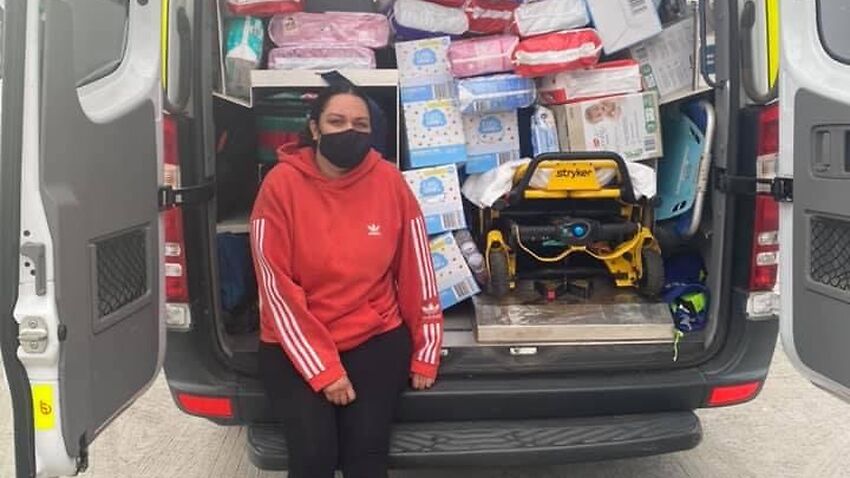 More than $100,000 has been raised to help provide fresh food and necessities to residents of Wilcannia in far western New South Wales as it grapples with a growing COVID-19 cluster. 
The small town, which has a majority Indigenous population, recorded six new cases on Wednesday. Fourteen infections were posted the previous day. 
The total number of infections across far western NSW currently sits at 48.
Wilyakali woman Taunoa Bugmy, who is based in Broken Hill, has been isolating after attending a Wilcannia funeral that took place before regional NSW was placed in lockdown. 
She told NITV's The Point this week that as soon as a family member posted on Facebook saying she needed help, "this is what got our little team over here in Broken Hill … [to] start raising funds". 
NITV: Wilcannia families struggling to isolate in overcrowded housing
"We raised about $5,000 to start with … we sent over meat, we sent over baby nappies, formula bottles." 
Realising the community would need more support over the next few weeks, Ms Bugmy started a GoFundMe fundraiser page to help. 
"We know that this is, like, going to be a long term problem, so that's why we sourced the GoFundMe page," she said.
"It hits our hearts when things like this happen, because now we've got greater concerns for our families with chronic diseases, AOD (alcohol and other drugs) issues, and disabilities." 
As of Wednesday evening, more than $110,000 has been donated by over 2,000 people. 
Wilcannia is located about two hours' drive from Broken Hill and five from the regional hub of Dubbo. At the 2016 Census, the town had a population of 745, with 61 per cent of residents identifying as Aboriginal and/or Torres Strait Islander. 
Barkindji woman Monica Kerwin-Whyman told NITV's The Point that supplies of food were already running low. She said authorities did not seem to understand the challenges faced by families living in a small community.
"They're treating us like we're suburban Sydney. A family said, 'we've got no food'. They said, 'go ring Uber eats', in Wilcannia," she said.
"We're 200 kilometres away from the nearest big community, which is Broken Hill, where they have fast food and deliveries.
"In Wilcannia, if you don't cook for yourself, you're going to go hungry, because everything in Wilcannia is closed by seven o'clock."
Families living in Wilcannia are also struggling to isolate in large households. 
Several COVID-positive families have been relocated from their homes to a local caravan site where they're staying in worker accommodation.
"We've probably got four or five cabins out of the 20 that are booked so far with positive patients," park manager Justin Harris told SBS News.
"The logistics and the coordination of it is quite challenging out here as far as getting them food, and all that sort of stuff."
Mr Harris said the site could accommodate up to 30 and 40 people, with ADF personnel and additional police staying in the town to assist.
"It's really early days yet. We've been provided the adequate PPE gear from NSW Health, but we haven't been trained yet," he said.
Pat Turner, CEO of the National Aboriginal Community Controlled Health Organisation, told NITV's The Point the outbreaks across western NSW "could well be" a catastrophic event due to issues around housing.
"One of the factors that compounds things like a pandemic is the overcrowded housing, which we have repeatedly asked governments throughout Australia to address, to ensure that our people have safe, and the right size housing," she said.
Forty nine new COVID-19 cases have been identified in the state's far west on Wednesday: 35 in Dubbo, seven in Bourke, one in Narromine, five in Orange, one in Walgett, six in Wilcannia and one in Broken Hill.
Source link